1981. Kokugyokan. (House of Champions) – Ojiya City.
I was first taken here by Hiroshi Kawakami (Torazo) as this outlet is close to his facility.
The very expensive-looking outlet is owned by Mr. Seili Hiroi who, on first impressions, looked to me like a fully paid-up member of the local Yakuza (Mafia) with his 'permed' hair and very sharp clothes. His wife was a particularly beautiful and well-dressed, modern lady who seemed to 'hover around' in the background.
As to his Koi, they were both very large and very beautiful, today they are just about all Go-Sanke but, back then, he had a large range of other varieties also.
Kawakami San informed me that Seiji San did not produce Koi but instead relied on his very acute 'eye' to purchase real tategoi from all the breeders around him and then grow them to perfection in his own mud ponds. One glance of his stocks told me they were out of my league completely.
My first impressions here were, in a word, 'guarded'.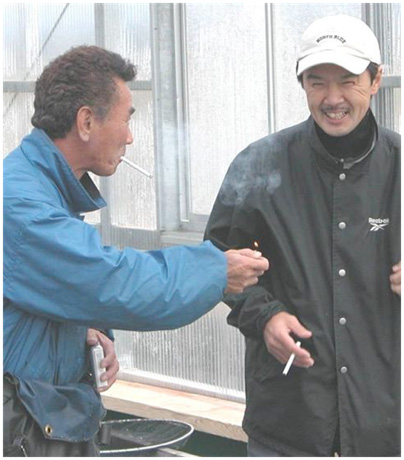 Best friends – Hiroi Seiji (left) and Tsuyoshi Kawakami (Torazo) after assisting in Kato San's harvest in 2002.