* Plus Pattern Styles and Show Classifications
Over the years there have been many different varieties of Nishikigoi produced that have led to an assortment of show classifications, colours and pattern styles. The following paintings are taken from my first book entitled 'Koi Kichi' (The Japanese term for 'Koi Crazy') first published in 1995. These images are still a very unique and accurate coverage of most of the varieties one can see for sale today although several examples are becoming quite rare and increasingly hard to find.
To obtain actual photographs of all these varieties in real life is almost impossible – location, size, sex and 'posing' all produce very real problems. I commissioned these paintings below in 1987 for my future book 'Koi Kichi' published 8 years later. These were hand-painted onto a standard female Koi outline prepared by Nishikigoi artist Satoru Hoshino of Oyiya City who is also a famous local Nishikigoi historian. Satoru has also made a great contribution to a recent book in the English language named 'Nishikigoi Mondo'.
---
Show Classifications

(Inverted commas denote classification rather than variety)

1. Kohaku
2. Sanke
3. Showa
4. Tancho
5. Bekko
6. 'Utsurimono'
7. 'Koromo'
8. 'Kin/Gin Rin'
9. Asagi/Shusui
10. 'Hikarimuji'
11. 'Hikarimoyo'
12. 'Hikariutsuri'
13. 'Kawarimono'
14. 'Doitsu'

UK Size Classifications

(All Koi are sized by the benching teams upon entry to the show.)

Size One – up to 25cm
Size Two – up to 35cms
Size Three – up to 45cms
Size Four – up to 55cms
Size Five – up to 65cms
Size Six – up to 75cms
Size Seven – up to 80cms
Size Eight – over 80cms
---
1. KOHAKU – A white Koi with red pattern. This variety is, by far, the most produced and, potentially, the most valuable variety of Koi by far. It is also the most difficult variety in which to produce a perfect example hence the reason why the vast majority of Japanese breeders almost always include this variety in their parent stocks.
There is an old saying in Japanese Koi circles that 'We start with Kohaku and finish with Kohaku'. This generally means that when we come into the hobby there are usually more Kohaku for sale than other varieties and so we buy. Afterwards we become more interested in other – dare I say? – 'Less boring' varieties.
However, it is only after we have built up experience and then attended serious Koi shows where we can converse with other enthusiasts that the true beauty of Kohaku can really be appreciated.
Below I have included several popular 'pattern styles' of Kohaku as examples only and NOT as requirements.


---
2. SANKE – A white-based Koi with red and black patterns. This variety is sometimes referred to as 'Taisho Sanke' or 'Taisho Sanshoku'.
It is, probably, the second most desirable variety in Nishikigoi. I have included some popular pattern styles and descriptions below.

---
3. SHOWA – A black-based Koi with white and red patterns and is also known as 'Showa Sanshoku'. This variety is probably the most popular with both newcomers to the hobby as well as some who have much more experience in Nishikigoi varieties. Again I have included some popular patterns that can be found.
NOTE – Kohaku, Sanke and Showa varieties are collectively known by the term of 'GO-SANKE' and these are the only varieties that can be considered for 'The Supreme Champion Award' at all major Nishikigoi shows.

---
4. TANCHO – I have included this classification here although it is merely a pattern 'thrown' in the production of the 'Go-Sanke' varieties above. No Japanese breeder actually strives to produce Tancho as such. Again, they are simply random patterns produced and many find them to be very collectible. For entry to Koi shows the 'Tancho Class' is reserved for 'Go-Sanke' varieties only. Other varieties do produce 'Tancho' patterns but these are entered to be judged, in their classifications, alongside the normal patterned entries.

---
5. BEKKO – This is also not produced today by any real attempts in Japan. The word Bekko translates as 'tortoise-shell' and I have included here Shiro Bekko – a Sanke without red pattern; Aka-Bekko – a Sanke without white pattern and a Ki-Bekko – a yellow Koi with black pattern – almost impossible to find today.

---
6. 'UTSURIMONO' – These are all derivatives of Showa varieties which have since been produced by intent rather than by accident. Shiro Utsuri is probably the fourth most popular variety for serious enthusiasts after Go-Sanke mentioned above. The word 'Utsuri' in Japan relates to 'change' and these varieties are often subject to pattern changes as they develop. I have included here Shiro Utsuri – a Showa without red pattern; Hi Utsuri – a Showa without white pattern and Ki Utsuri – a black-based Koi with yellow pattern – again, almost impossible to find today.

---
7. 'KOROMO' – This is a show classification term given today to Ai-Goromo; Sumi- Goromo; Budo-Goromo; Sumigoromo-Goshiki and Goshiki varieties. I am displaying an example of some of these varieties below.

---
8. 'KIN/GIN RIN' – ('Gin' is pronounced as in beGIN') – This is a show classification again reserved only for Go – Sanke varieties of Nishikigoi. All other Kin/Gin Rin Koi are entered to compete with other none Kin/Gin Rin classes in their varieties. 'Kin Rin' refers to Koi adorned with gold reflective scales (very rare indeed) and 'Gin Rin refers to the much more common silver reflective scales. These Koi are extremely striking to behold.

---
9. ASAGI/SHUSUI – This classification covers both of these very early varieties.
Asagi were probably the first TRUE variety of Nishikigoi ever produced whilst Shusui are a 'scaleless' version of Asagi.
Both of these varieties are still in great demand throughout the world today.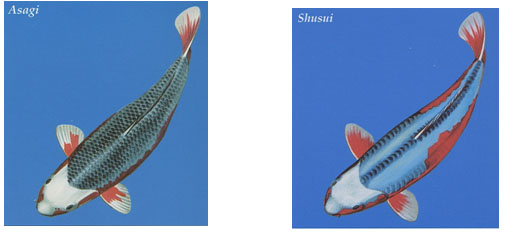 ---
10. 'HIKARIMUJI' – Sometimes referred to as 'Hikarimono'. This is a 'classification' for metallic varieties of single colour only (metallic Matsuba (pinecone) varieties are also included in this group ). I am including most of the popular varieties below.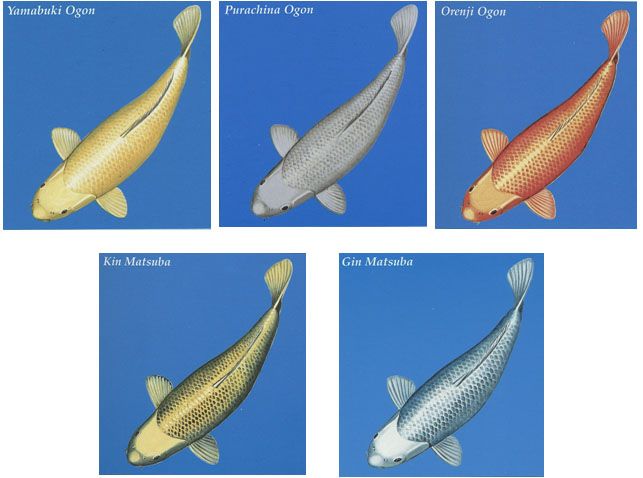 ---
11. 'HIKARIMOYO' – This is a 'collective term' for metallic varieties of more than one colour (with the exception of Hikariutsuri which follows). Below are some of the more popular varieties that can be found today.
---
12. 'HIKARIUTSURI' – These varieties are metallic Koi first developed from Showa varieties, three main examples are displayed below.

---
13. 'KAWARIMONO' – This is an enormous classification for all other non-metallic varieties not covered above. Many of these varieties are extremely popular with enthusiasts around the world. Below are some examples of these varieties.
---
14. DOITSU – Some shows do include Go-Sanke varieties only in this classification whilst non-Go-Sanke varieties must compete in the approprate classes mentioned above. However, there are many shows that do not include this classification which results in all Doitsu varieties having to compete with their fully-scaled (wagoi) counterparts. Good examples of these varieties can be extremely beautiful indeed.

---
---
It is almost always that a female Koi takes the major awards at Koi shows as the adult female body shape is much more impressive and desirable than the far slimmer shape of the male.

Body shape, skin quality, 'frame of the skeleton' and 'unique pattern' (very important) are also major points to observe in a Koi for show purposes.

They also can be tamed to feed from the hand thus becoming true family pets – although the majority of this is by way of 'cupboard love'! Many collectors also give their Koi pet names!
---
As to the actual price of Koi, the vast majority of Koi produced are relatively 'cheap and cheerful' as seen in most water garden centres that also stock Koi from other countries as well as Japan.
However some very special Japanese Koi can command very high prices indeed and are usually bought by avid collectors who will enter them into major Koi shows.
To witness an excellent example of ANY variety with one's own eyes is a sight to behold!
During my regular visits to Japan to purchase stocks it is not uncommon to witness a Koi changing hands for 10,000,000yen – £62,000.00 and there are a few other specimens that can command much higher prices.
Before I close this page, I should point out that there are many of these varieties shown above that are almost impossible to find today in any reasonable quality for show purposes and this has been so for many years.
The last decent Shiro Bekko examples I saw that were of reasonable quality were at a small outlet near Nagoya in 1985.
I have only ever seen one decent Aka Bekko for sale and only one Kin Hi Utsuri – I bought both of these in 1983.
I have yet to see even one Ki Bekko in the flesh and the Ki Utsuri I have seen have not been worth buying.
Kin Showa varieties could be found in abundance in the mid 1980's but there are not so many being produced today. There was one breeder on the road to Koide who specialised in these but he closed down in 1996.
Doitsu Yamabuki Hariwake were commonplace in the mid 1970's but almost disappeared by 1990, thankfully since 2000 the variety has been successfully re-introduced by Yamasaki in Budokubo village.
Hasegawa in Ojiya City produced superb Cream Ogon until he lost his parents in the early 1990's, the last I saw of this variety on sale was at Shinoda in 1997.
Some other varieties that are hard to find today are Yamatonishiki; Doitsu Yamatonishiki; Hariwake Wagoi; GinShiro; Matsukawabake and other black and white 'Kawari Wagoi' derivatives such as Hageshiro and Yotsushiro.
Thankfully there are still breeders such as Aoki and Kase in Niigata who have seen an opening in the market and have been producing some of the rarer varieties and also some experimental lines that do find ready sales from overseas buyers.
As to the very early 'varieties' shown in the first books such as 'Rainbow Carp' during the mid-1960's – names such as Raigo; Huck-shu; Zuiun; Koshi-no-Hisoku and a few others, although I expected to be able to buy this openly on my first visit to Japan in 1977, I have yet to see a single one of these in the flesh!
Like the early lines that went on to produce the first 'bloodlines', these have disappeared long ago after far better parents have been produced. Even if genuine original parent stocks of Tomoin; Sensuke & Manzo became available today by a quirk of fate, few modern breeders would even think of using them as parents. The reasons for this are that today's parent stock are infinitely superior in producing high quality offspring. One only has to compare the All-Japan Champion Koi even in the mid 1990's against the ones taking the award today and this should be more than enough to justify these statements.
All this early information of varieties and bloodlines/development is only of use to myself and a few other 'anoraks' because it is now little more than history and has been so for many years. As with any other industry in the world – things change over time.
The art of breeding Nishikigoi is no different nor is the demand from enthusiasts!