1977. Yamamatsu Koi farm. Also in Mushigame village but at the other extremity of the village from Maruju.
Our coach could not access the mud and pebble track which led to the facility and so we all had to walk down from the 'main' road – this was only 'a wider' mud and pebble track!
Despite our interpreter repeating the name 'Matsunosuke' to us on many times we all had great difficulty in pronouncing it. She later explained, via a sheet of paper written in advance, that the true name of the farm was 'Yamamatsu' who was famous throughout Japan for originating and stabilising the bloodline of Sanke that were commonly known as 'Matsunosuke' – after this, I gave up all attempts of ever pronouncing these names even though I had printed them in my notebook.
This farm consisted of a small, wooden dwelling house, some outdoor concrete ponds and an indoor building which contained one large, square pond and a smaller rectangular pond.
There were many varieties of Koi there, apart from Sanke there were Showa, Koromo and several Hikarimoyo and Hikarimuji specimens.
The owner of the farm greeted us with a broad and cheeky grin on his face and proceeded to show us some of his Koi by placing them in blue bowls before us, most of the farms we had visited before still used the old, oval wooden bowls.
Our interpreter introduced him as Mr. Sakai which we found a lot simpler to get our tongues around. In later years I discovered that the company name of 'Yamamatsu' came to be as a combination of YAMAkoshi and MATSUnosuke.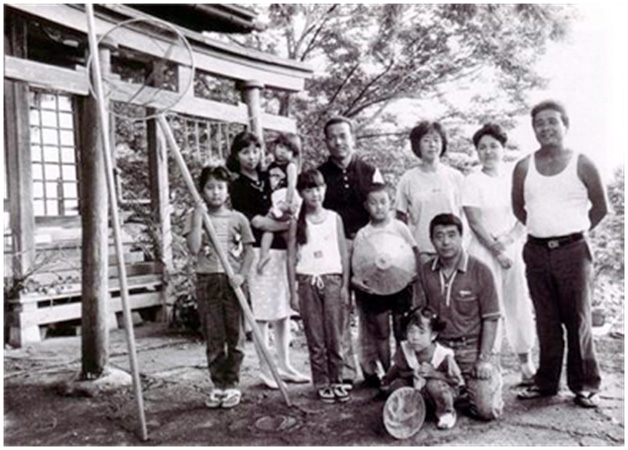 The above picture must have been taken around 1982-3 of in Mushigame. It shows Toshiyuki Sakai on the far right with his wife to his left and his son Toshiaki on the far left. Toshio Sakai is in the back centre of the picture with his daughter Miwa and son Toshi in front of him, his wife is standing on his left holding a child. The lady next to Toshiyuki's wife is his sister and the mother of Isao Nagashima who now works at this outlet – she also owns a hairdresser's shop in the village.
This picture is Nishikigoi history in black and white! My first impressions of this outlet were overall auras of a 'friendly and restrained confidence'.