Pretty soon the wealthier of the UK Koi enthusiasts began duplicating this system for their own systems.
Next I set about modifying the plastic grid plates used by the breeders as bottom drains in Japan, to also be able to cope with outdoor conditions.
My units had also to be adapted to allow installation on liner ponds – and the idea was to take the 4" lines to standpipes in a discharge box for daily discharge to waste.
That's how my original 'mushroom drains' came to be, much more for my own use than anything else.
As fully expected, most of the UK experts who saw these units labelled me as being totally off my rocker and who also needed urgent medical assistance!
However, by 1981 I had much more important things to consider, namely designing and building the layout of my huge indoor Koi emporium soon to be known as 'Infiltration Ltd'.
(My finest plans were mostly made on the back of fag packets whilst having rare tea breaks.)
The finished design was to have a large central pond to display all my most costly stocks and this would be surrounded by six 'side ponds' for cheaper stocks, together with a 'staff only' area for the treatment of damaged Koi.
Regarding the 'side ponds' they were a truly futuristic and well thought-out design in 1981, they must have also cost me a small fortune to complete.
Andy, who takes care of my websites, has come up with my original design plans, which I think you may find to be interesting?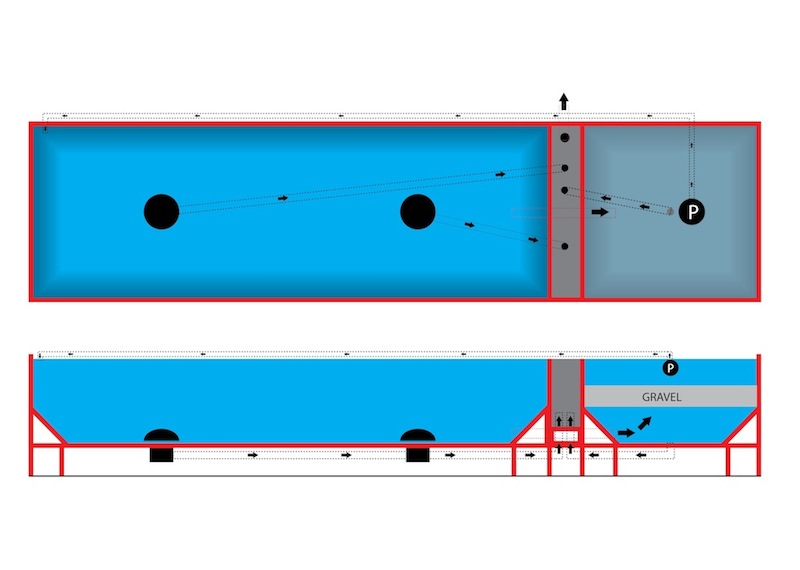 This design is by memory from 1981, but would still stand up today with a few modifications.
These six 'side ponds and filters' (28' x 6' x 4' deep) were formed from 2" steel box section frames and lined throughout with 1" marine ply.
After this, box-weld liners were fitted to both pond and filter and held in place with a beautiful 6" wide, tailored, red wooden coping.
The 3" bottom drains, (outrageously revolutionary in those days), were connected to the grey PVC discharge box shown and stopped by 3" standpipes. The 3" drain from the filter was also connected to the grey PVC discharge box and an open 4" connection then emptied the discharge box to sewer by gravity.
A 4" open side feed connected the main pond to the filter and this could be stopped or opened by the push or pull of a Koi net handle should the need arise.
The only single mistake I made on these systems can be clearly shown on the section diagram where the incoming water from pond to filter tracks directly to the suction inlet of the submersible water pump!
Alas, it took me another 27 years to finally realise this!