13/03/10
This is an animation showing how the system operates.
The different coloured drains relate to the filter and return points in the same colour. If you click on the pump at the end of the filter it will start the operation. The skimmer and U/v lines can also be activated as can the returns from these which are switchable to either pond return or waterfall return.
PS. If you're at a loose end, have a few beers and start all the arrows – you'll realise soon that they are even more fascinating than Koi?!
Update 16/04/10
Before I start, here's a reminder as to how the job looked after the excavation had been made and hard core had been compacted before the first concrete base was cast.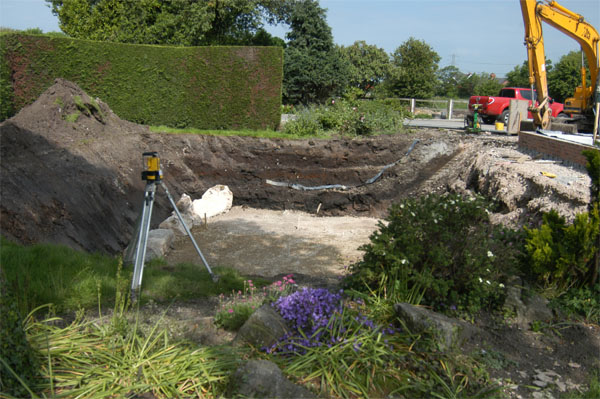 Koi stocks were added 23/12/09 as shown earlier when the pond's under floor heating system was set to 8C. This was increased to 10C and kept there until natural UK ambient took it above thermostat level and thus the heat was not used. When the following shots were taken yesterday the ambient temperature was 12C and so it was decided to get it up by heat to 15C to give the Koi an early edge for this summer.
The usual water parameters namely pH; nitrite; ammonia and D.O. have been taken weekly since the Koi were added and fed sparingly. There has not been a trace of any readings other than normal.
Some weeks ago, the pond water turned pea green and so the U/V units were switched on for the first time, as expected it took 10 days to return the pond to perfect water clarity.
Here below are random shots taken 16/04/10.
[nggallery id=1]
For myself, when I see a Koi pond in a garden, all I wish to see is the landscaping, water and Koi. The last things I need to see are electric cables, pipelines, filters, U/V's and pumps of any kind.
Of course the carefully selected plants have been supplied and positioned by a specialist and will take a further two years before the full effect can be seen.
The normal running water level of the pond is absolutely perfect and the rocks are two thirds submerged as intended.
Once again, it is a 3-drain system and three concrete versions of Eric 4 units are providing the filtration. The owner's only regret is that my ready-made Eric units were not available at the time of the build as these would have saved significant labour in assembling pipe work, fittings, construction and waterproofing together with significantly less space being taken up and, of course, a considerable saving on overall expenditure.
With regard to maintenance of the units I did ask the owner to discharge one per day in order however, he confessed that he had not been doing this. Instead he told me he just discharges all three units every Saturday afternoon. We did this yesterday afternoon and timed it from start to finish from switching the pumps off to switching them back on again. It took just under seven minutes for all three and the pond level was dropped by three inches! There is no need for water changes or 'topping-up' as there is a constant trickle – and I mean 'trickle' of mains water entering the system at all times.
My own verdict after visiting the pond yesterday with my boss lady, Hilary?
Simply breathtaking in every aspect – another wonderful Koi pond I am proud to be able to put my name to!
Here below are two female Koi that will be added to the pond in late November this year. At the present time the Sanke is 77cms and the Kohaku 84cms. They will both spend this summer in Yamakoshi field ponds.
Ah, tategoi – no question at all!
NOTE – I still need to monitor and regulate the flow from all six water pumps and will detail this in full when the machine is eventually available for hire.