Published June 2009. Written specifically for anyone and everyone intending to build or update a proper Koi pond today. It is doubtless the first book of its kind ever produced and has been prepared from 37 years of hard-earned, hands-on experience and involvement in this complete and often complex subject of pond design; excavation; build; landscaping and all modern-day and latter-day Koi pond filtration principles and ideas.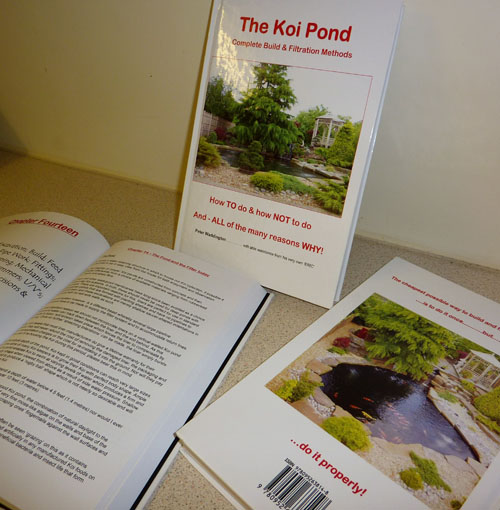 There are many recommendations within as to 'for' and 'against' given in this book but not without all the reasons for saying so. Because this subject and all it encompasses is lengthy by nature, so too is this book which requires far more than just a brief glance through it.
There is a world of difference between a specialist Koi pond and a garden fish pond although many outlets still continue to combine the two as they have done for years. As a result there is significant confusion to be faced by the Koi keeper.
As with any other pastime, there are new methods and ideas that replace less useful ones and this book highlights them all with valid reasons and detailed explanations.
At the end of it all, it is intended that the reader will be able to have another set of perspectives to consider before going ahead with any existing plans or word-of-mouth recommendations from elsewhere. It is also dedicated to a specialised subject which probably makes up some 40% to 50% of the hobby that we know as 'Koi Keeping'.
Price £39.95 plus £4.00 p+p to UK only*
*For those outside of the UK wishing to purchase please email infilkoi@googlemail.com for delivery costs.