It was around 1984 that I first had the idea to write a book about Koi. I had also chosen a name for the book that I'd heard on my first visit in 1977 when some people I met openly referred to me as being 'Koi Kichi' which was later translated to me, with a smile and a shake of the head, as KOI CRAZY!
By then I had visited Japan a few times and realised that I was picking up all kinds of information and terms that no one in the Western world had possibly ever heard before. To record it all, I bought a standard notebook and, after the initial learning's I had found in the past had been jotted down, I kept adding to it on my return to the hotel after a day spent looking for more Koi. After a few more visits I found I had quite a few notebooks piling up whenever I travelled forwards and backwards at regular intervals.
In 1986 I wrote the first 'book' by hand and paid a typist to get it into some presentable form only to realise there were too many holes that needed filling in. I then scrapped the typed document and bought a larger, loose-leaf book with section dividers and started again to transfer information into it by hand from my notebooks. I still have that loose-leaf book today but the only thing that remained the same when it was eventually published in 1995 was the original name – 'Koi Kichi'.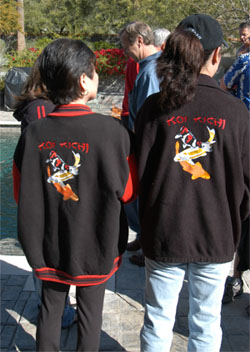 Koi Clubs; Koi Dealers and many enthusiasts in all parts of the world have since adopted this humorous term of addiction in many parts of the world. It certainly was the most perfect name possible for my book.
I started to interview prominent Koi breeders around 1987 and several learned Koi historians and other people who could be of help. A great deal of the historical and bloodline information came, over many meetings, from Satoru Hoshino in Ojiya who is a veritable mine of information on these matters and I gave him some prominence in the finished book.
Whilst I could find much of the information regarding Koi and the breeders who produced them on my constant visits to Japan together with vital information on medications and the likes; the information on pond and filter design had to come from my daily UK experiences of being involved in these areas.
Whilst I had visited many ponds owned by Japanese collectors in many parts of Japan, the vast majority were only average when compared to the systems that were being produced back home. Even today, the information given in Japanese magazines and books is 'sparse and basic' to say the least on these very important matters that play a great part in the overall hobby. The breeders also could not really assist here.
In view of this, I dedicated a lengthy part of the book to cover all aspects of 'proper' pond and filter designs and even suggestions and illustrations of a pond from start to finish. A significant amount of this information was added in 1993 whilst being in Germany to install several very up-to-the-minute systems of the day.
The final part of the production came in mid-1994 to early 1995 and then followed endless visits to the layout people and to check bromides and proofs whilst I was still working day and night on final texts. In view of the presentation and high quality materials I demanded of the finished article, the production costs were high and, as they crept ever-upwards, the more my financial risk became.
In late 1994, I came up with the idea of producing a signed and numbered 'De-Luxe Limited Edition' of the book to be offered alongside the standard version and obviously this would have to be more expensive to produce and sell. I thus checked around the specialist bookbinders and finishers in the UK and came up with a company who produced special books for our late Queen Mother to be sent to her close friends as gifts. On my first visit, I was shown some true works of art that they had produced with their small team of craftsmen. I showed them where I was with my book and, between us, we came up with the materials and ideas for the special edition. As far as price is concerned and like most commodities, hand-made books also become cheaper per unit if greater quantities are ordered. The question was soon raised as to how many copies of the special book would be required after it was clearly pointed out that, once a firm quantity had been decided upon, it would be illegal to produce more or less – despite demand. Of course, I had no idea at all of these rules – how could I?
When I first gave my 'total guess' that 500 copies may be sold with a little good luck, the bookbinder was astonished beyond belief. He pulled out an A5 book from his shelf contained inside a beautiful wooden box and showed it to me. It was a book on fly-fishing, bound in engraved leather and some inside pages were sculpted out to hold an actual collection of hand-made flies made by the author. It was an amazing presentation indeed. He then advise me that the author had commissioned 25 copies only of his signed, limited edition and it had to be sold at £325.00 each – he then mentioned that the book had been on sale for 12 months but he had only sold 3 copies to date – one of those, to his mother!
I spent several days in thought, all I had before me was a crystal ball and a list of 'estimates'. Some years later, I remember calling the bookbinder and saying – 'To hell with it, produce me 500 copies' – I put the phone down after considering the cost involved, on what only was 'a pure whim', and then shuddered.
Would anyone out there actually buy a copy at £95.00 when they could buy the high quality standard version for £39.95?
I started to advertise both formats of the book in July 1995 and had a few enquiries from publishers wishing to pay me a one-off fee for the rights, the top offer was £33,000.00 and they would handle all production and sales. I declined and gritted my teeth – 'In for a penny, in for a pound' – and, quickly realised, I had no fingernails left to bite!
I had also decided well in advance that, if anyone anywhere wished to order a copy – then it would have to be directly from me. Offering it to the trade in the UK at a discount was a rapid way to suicide by price-cutting. However, it was offered for strict sole distribution rights in foreign countries subject to minimum order quantities.
By then I had a huge chart on my office wall showing square boxes numbered from 1 to 500. If I remember correctly there was a lull of some four days after the announcements had been made and then, as if someone had fired the starting pistol, all hell broke loose!
I had six incoming telephone lines to the shop and, by mid August, these were being answered all day long from those calling from all parts of the world wishing to buy one or more copies.
For those wishing to buy a Limited Edition they were given a choice of available numbers, once the number had been decided their names were placed in the respective box. Many requested I sign their copy of the Limited Edition with a few words of dedication. As a result we asked the buyer if any words of dedication were required. Thankfully, before the books were ready for signing, a buyer, when asked about this, replied with horror that, under no circumstances should a Limited Edition book be marked by the author other than by the number and his name. Apparently any other messages reduced the value to almost zero. There were quite a few of these books sold to 'Limited Edition Book Collectors' who had no interest at all in Koi – nor would the books ever be opened except to check the number and the signature!
I had reserved numbers 1 and 500 for myself and you would not believe some of the bids made by the book collectors for these.
The names for the Limited Edition boxes started to be filled in daily and I just walked by in pure wonder to see fewer and fewer blank boxes available at the end of each day. By mid September all 500 copies had been sold and the actual books would not be delivered for posting until some three weeks later.
I have since thought that even if I'd had 2,500 run of Limited Edition copies produced, they too would have all sold over the first 4 years or so!
(Whilst writing this, I have just checked Amazon to find that a second-hand copy of the standard version is still being offered at £395.00!)
The first of the 10,000 standard copies retailing at £39.95 were delivered in mid September and then things just went completely 'Kichi'!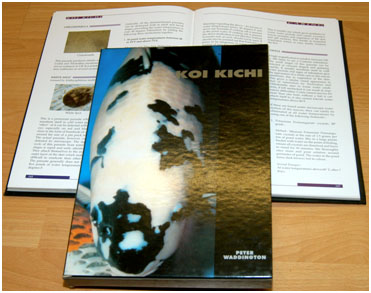 This is the Standard Version of 'Koi Kichi' complete with slipcase and the original 10,000 copies were sold by 1999.
In 2000 a further 5,000 copies were produced in a more economical soft back version at £22.50. These too were sold out by 2004.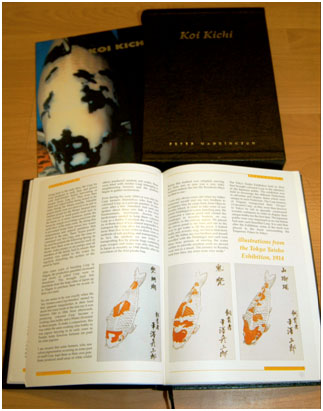 Here is my own 'De-Luxe 500 copy Limited Edition' complete with leather-bound book and slipcase. It was edged and embossed in silver leaf and each chapter divided by expensive parchment tissue. It had a silk page marker and a wooden-backed display sheet with the front and back cover of the standard book for framing purposes.
Bearing in mind that much of the information in the book had been collected since the mid to late 1980's; to the majority of readers in 1995 and later, words/names such as tategoi; tateshita; fukurin; hikui; Masoten; Hiroji Sakai; Toshio Sakai; Hasegawa; Matsunosuke; Yamakoshi; etc. etc. etc. had never even been heard before.
There was also a section of the book that highlighted many hitherto unknown Niigata breeders and there was also a very crude area map of Yamakoshi showing village locations as a rough guide. It also urged the readers to take a visit to Yamakoshi and experience everything that could be found there with their own eyes. It was an open attempt on my part to promote these guys, who were my teachers, to the world for the very first time.
In view of all of this, the book was ordered by many Nishikigoi breeders in the area – despite the fact that they could only enjoy the pictures, and it also went on sale later at Miyakoya in Ojiya City.
Thus followed many promotional tours of the USA; South Africa; Singapore; Philippines; Germany; Holland and the UK for signings and lectures.
It quickly became the biggest selling Koi book ever produced – much to my surprise and delight.
There were many kind letters in praise of the book, received from many parts of the world – here are just a selection of those I kept on record.
'I feel I must write to you to say how much I enjoyed reading your book 'Koi Kichi'. I have been mesmerised and enthralled since Christmas Day when I opened my present. I have never been one to read very many books except manuals or instruction books before but that has now changed.'
Steve Williamson, Staffs.
'My enthusiasm to read each page is tempered only by my wife's threats to walk out if 'I don't put that damn book down!'
Peter, this has got to be a collector's item – the sheer quality of the paper, print, photography, binding et al is evident as you open the book. As one starts to read through the contents, the quality is further enhanced by the written word.
I take my hat off to you, you really have produced something special.'
Mike Harvey, Chairman, S. Africa Koi Keepers Society.
''Koi Kichi' combines clear, concise information, incredible photography and a highly original and entertaining style which places it well beyond the status of a Koi reference book. In fact it is definitely a MUST buy for anyone that is Koi Kichi'.
Ray Jordan, Texas Koi & Fancy Goldfish Society.
'I found it compulsive reading and a must for anyone with any interest in Koi at whatever level. Once I started to read it I found it was very difficult to return it to its box.
Another aspect of the book is the all-round quality, my wife has worked in the book-binding world for 40 years and, in her opinion, it is a book of high quality both in the paper used, the sewing and the binding.'
John Sprouting, Bristol.
'I am writing to say how much I enjoyed Peter's book. The whole essence of the writing was that of a man who loves his fish and not just a technical manual. I've read the book once and now I'm reading it again because it is obvious to me that there is so much knowledge and expertise within it that you have to read it twice (or more) to really digest it. The other major factor was that it didn't make me feel an idiot and wasn't patronising. It was a good, comfortable, enjoyable read which is like a class movie – you can watch it (or read it) over and again without getting bored.'
David Vincent, Surrey.
'I bought your book Koi Kichi because I buy every publication that becomes available and not because I thought it would be anything really new. I foolishly thought EVERYTHING had been written about my chosen hobby of Koi keeping, I am writing now to say that, after reading your book, NOTHING has ever been written about Koi before!'
Adrian Hanson, Gloucester.
KOI KICHI (a book review)
The title means Koi Crazy and is rather an apt name. This is a new book by Peter Waddington, one of the foremost authorities on Koi in the Western world.
As explained in the book, Koi have been Waddy's passion since he first viewed them in the 1970's. In 1980 he opened the first 'Koi-Only' outlet outside of Japan and has 'lived Koi' day and night ever since.
Waddy's 'final word' from the book closes as follows:-
'I have not compromised on any aspect of the book, no expense or experience has been spared and Koi Kichi represents all that I believe to be the substance, essence and truth of Koi Keeping, the hobby and the art. Koi are my life and I truly hope when you read it you feel my fifteen years have been well invested.
'Waddy', July 1995.'
Anyone who was not 'Koi Kichi' before reading this book will surely become a lot closer to it afterwards. This is truly a once-in-a-lifetime book.'
Dick Roemer, Mid-Atlantic Koi Club magazine, December 1995.
'Simply the best KOI book'
'KOI KICHI is simply the best KOI book that I have ever seen. It is so complete. It is a must for a KOI beginner and also a very good reference book for the more experienced.
The book describes in detail about Koi type, KOI selection, KOI disease and treatment, KOI breeders in Japan and almost every other single thing about KOI. I guess that the book is so good as it is written by an author whio is a KOI Kichi (Crazy about KOI). If you are a serious KOI lover, you should buy this book.'
'A Customer ' – Amazon review, May 1999.
'Koi Kichi' is a must book for any serious Koi enthusiast'
'Koi KIchi' contains many areas of information not usually found in other books. Most importantly it has a lot of commonsense answers based on 20 years of Koi experience.
His chapter on parasites, bacterial, viral and fungal diseases is authoritative, detailed and complete. It is just what will save the novice Koi keeper from poor advise from uninformed sources. The specific remedies he recommends have already saved enough of out Koi from death that we have more than recovered the cost of the book.
The author goes into detail on pond planning, design, construction and the whys and why not's, and how-to's of water treatment. He also includes specific recommendations on water pumps, air pumps, plumbing equipment, bio-filter material and pond materials.
His chapter on filtration is incredibly good. His knowledge is exactly what any Koi pond builder or keeper needs.
Peter Waddington is a typically British author with understated wit and humour liberally sprinkled about keeping us smiling.
His frequent and detailed trips to Japan's Koi breeding areas acquaint us with the most famous Koi breeders for each Koi variety.
His pictures are beautiful, numerous and show each of the Koi varieties.'
davedec by email – August 1999.
'KOI KICHI is an excellent reference book
I recently purchased the book KOI KICHI. I cannot compare it to others, but I have found it very informative. It goes into detail about pond construction, Koi care, Koi types and is full of background information and stories.
The thing that makes this book less useful to the DIY person is that Waddington (author) is talking about what he calls a 'proper' system which excludes a lot of what people who like to do it themselves consider staple. For example, he leaves out many details about pond construction because he believes it should be done in concrete, and should be left to a professional along with electrical wiring, surveying and landscaping.
As far as a reference book on Koi, I found it to be excellent, and it certainly gives a different perspective on pond setups.'
Than H. Thein, September 2000.
'Warning! This book is it. The true Koi Keepers Bible
The worlds Koi hobbyist were unknowingly waiting for this book. It shows and tells the Koi World as it has never been shown before. If anyone that has an interest into Koi is not presently Koi Kichi, (crazy – in Japanese), they will be after reading Waddy's words as only he could describe the Koi Kingdom. I was driven so Kichi, I spent November in Japan following the books description as I went from pond to pond and breeder to breeder. Having read the book from cover to cover, made every place visited seem like I had been there before. A must for all Koi keepers.
Charles Atwell, December 1997.
'The Only Koi Book You'll Need to Buy!
Koi kichi is a tremendous contribution to the hobby. It is also a beautiful book of commanding size and weight. This is a complete guide for beginning Koi keepers and old hands alike. Waddington's recommendations are helpful and his Koi stories are entertaining for the Koi keeper and non-Koi keeper.
While the Tetra Encyclopedia of Koi maybe more affordable and has been basic to the hobby for many years, the extra money for Koi Kichi will be well spent. And, after all, the price is not so outrageous if you ever had a subscription to Nichirin. In fact, vary good-looking Koi cost much more than Koi Kichi. Yes, sometimes thousands of times more than the retail price.
If you aren't into the Koi hobby, this book also makes a fascinating and handsome coffee table book. Waddington's photographs of Koi ponds and some of the most stunning and prize-winning Koi ever to be photographed will be sure to make for interesting tea time conversations for years to come. You will be sure to hear; the delighted question: 'What are Koi'?
Stan Faryna, July 1997.
'The Koi Book
Koi Kichi is with beyond doubt, the best Koi book available that covers all topics in a realistic view. Advice from Peter leaves the reader aware and full of info about the fish they adore – Koi.'
'A Customer', June 1998.
On reflection, it was more than worth the love, effort and all the significant worries involved because I enjoyed writing every single word. It is now 14 years after it was first published but it doubtless brought the 'truth' surrounding the Koi hobby to the vast percentage of the public at the time and much of this has since become 'cast in stone' by many Koi enthusiasts. Much more than that, it introduced Koi to many who were previously unaware of them.
I glanced through it some days ago and, with only a few modern tweaks to the hobby that were all predicted in the book, it still stands up to very close scrutiny – even today. For a total non-fiction book, this is indeed a worthy achievement that does produce some inner warmth to me!