Many things have happened with my pond since the original article was posted on this website some years ago.
Without going into too fine a detail, I shut the system down in late 2009 after first taking the Koi to other places for storage.
In early 2011 I made the decision to fill the system in and return the area to a garden once more.
So the equipment in the filter house was removed and sold, and this left me with little more than a half-filled pond that collected all manner of debris and an empty filter house that was cold, damp and deserted.
Next I started to get some quotations for bringing the area back to be a garden.
Again I won't go into this in fine detail but 170 cubic meters of hardcore were needed, as was the labour to transport it by barrow in order to fill the two huge holes.
After getting the quotations for this I decided to think about it some more and for the next two years this is how the pond and filter house looked –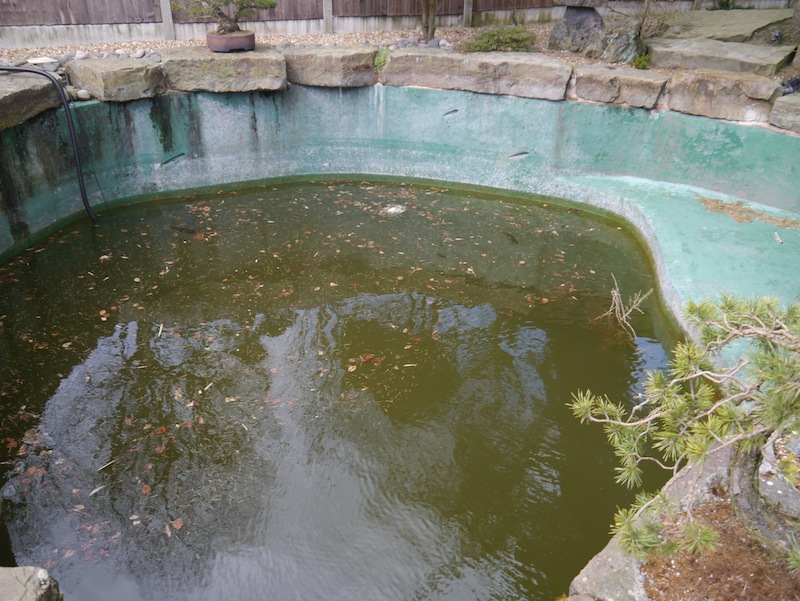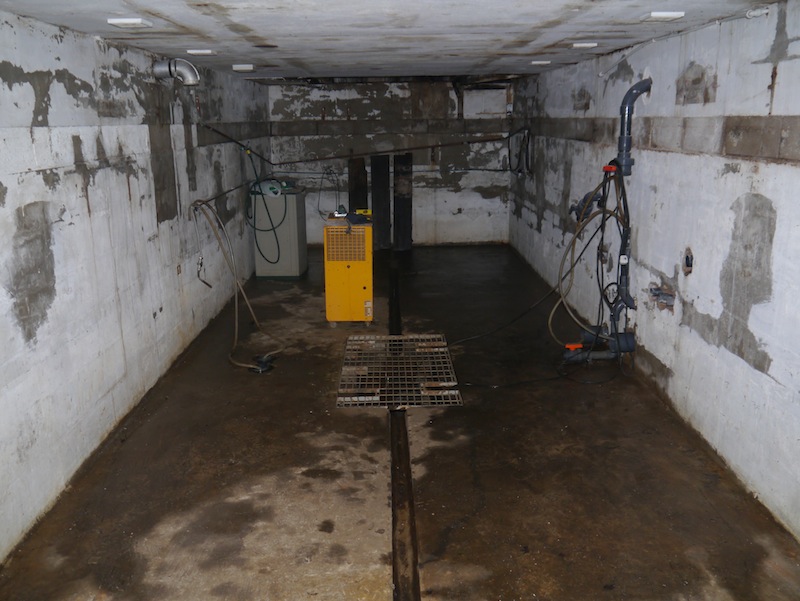 Not exactly a pleasant view to look out on.
I only use one man to supervise my pond designs and, when required, install my filter systems.
His name is Ian Miles who worked with me at Infiltration for many years.
In April this year, Ian suggested we get my system running once more so my wife could get her garden back in shape, once my wife Hilary heard this suggestion and the joy it brought to her face, I had no choice but to go along with Ian's suggestion.
An explanation is required here –
The pond itself holds 16,500 gallons (75,000 litres) of water.
The pond base has four independent bottom drains and the 4" drain lines all exit in the filter house.
The pond has three separate surface skimmers and the pipelines are all taken to the filter house.
There are also nine return lines from the filter house that end in the pond walls around three feet below water level.
These next shots should give some idea of some of the mammoth tasks that lay ahead of us –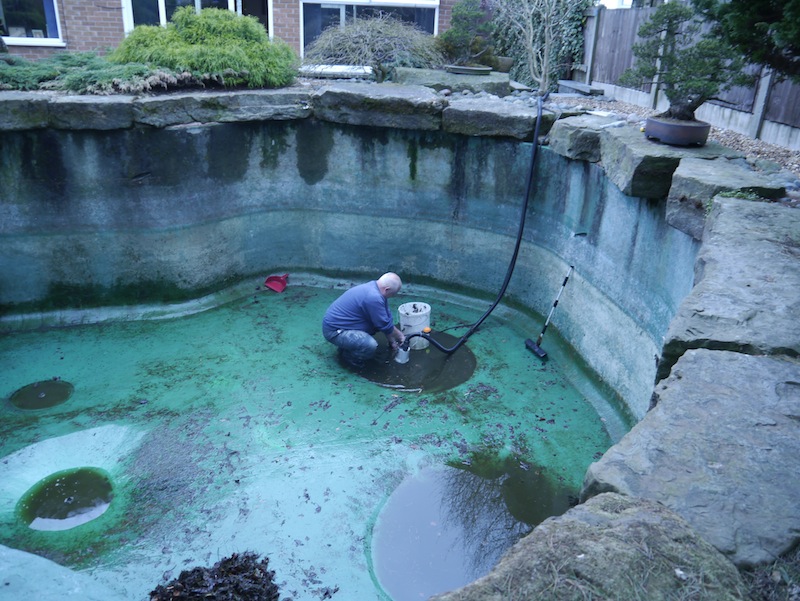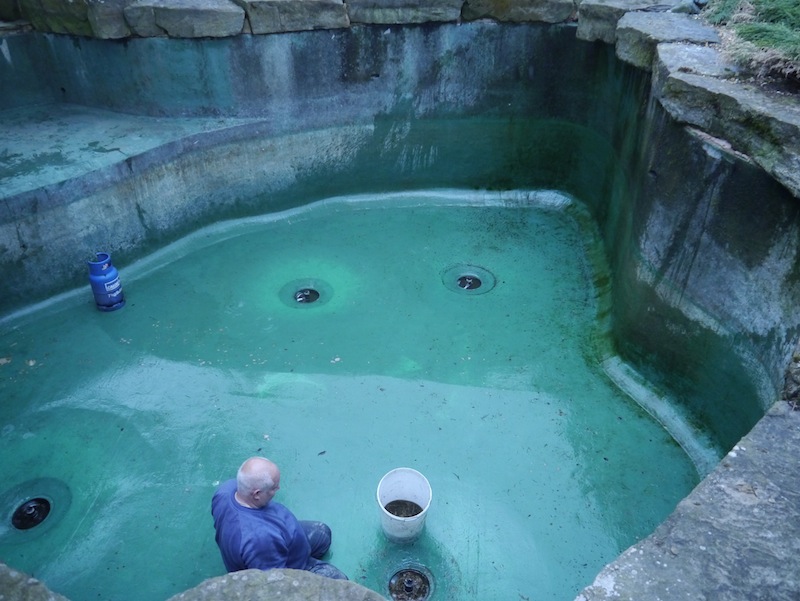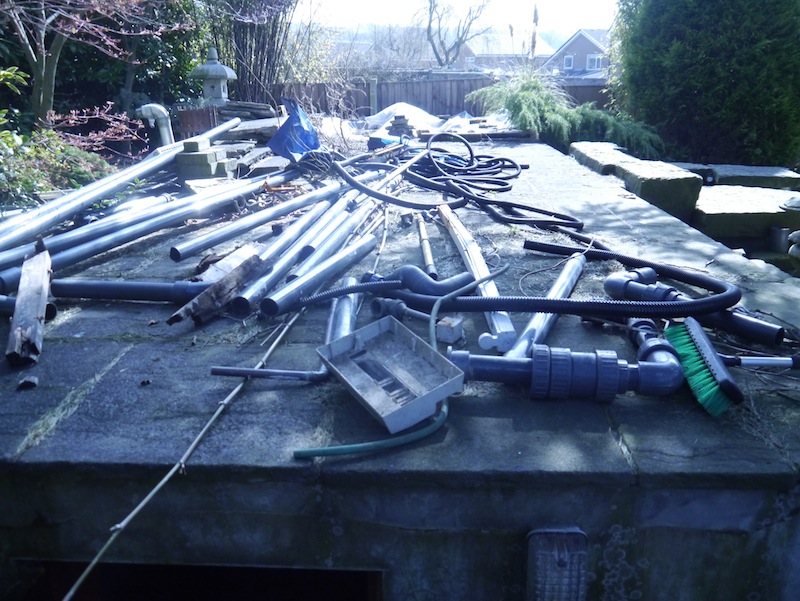 Ian's initial plan was to do all this on a tight budget by using one Eric Four unit, the largest of my filtration systems, and simply connect it to one of the drain lines.
I knew the results would not be worthwhile as the Eric Four unit was only specified to handle 6,000-gallons of water and in real terms this would be a huge compromise that could only end in failure.
As the clearing away and repair work continued with Hilary and Ian doing it all, I came up with the idea of trying to use all four bottom drain lines to supply the Eric Four unit independently.
Of course the simple way of doing this would be to connect all four drain lines into a manifold and then connect the manifold directly to the filter – however this would mean that the shortest drain line would supply the vast majority of water and the other three drain lines would be almost redundant.
No, we had to find a way of using all of the four drain lines independently in order to get perfect coverage of the entire pond base.
After the pond had been cleared out for the tenth time, we realised it also needed touching up –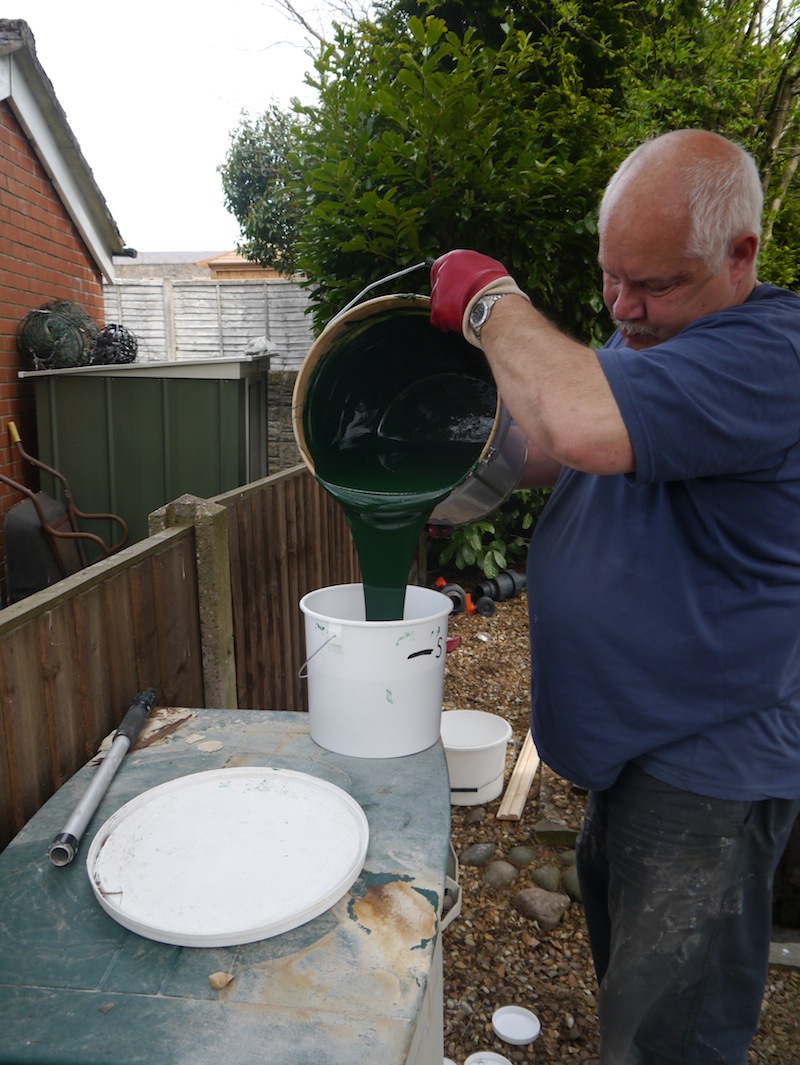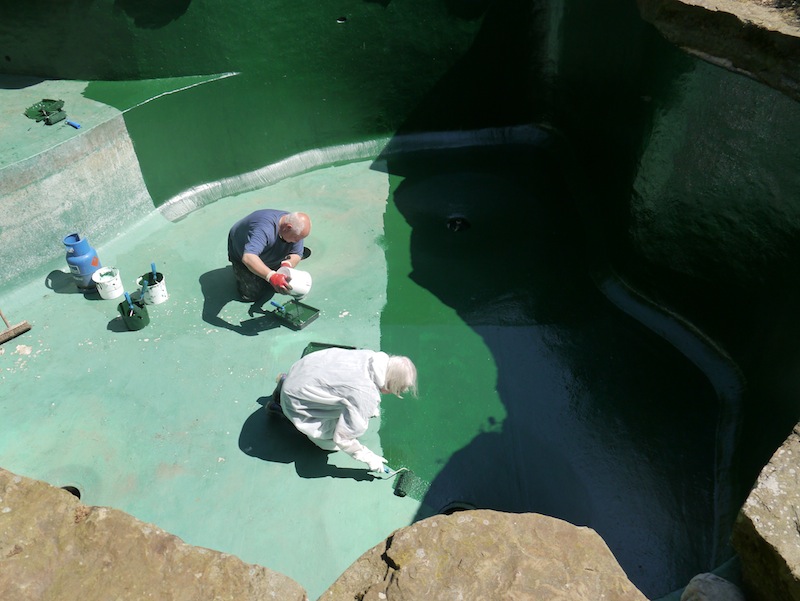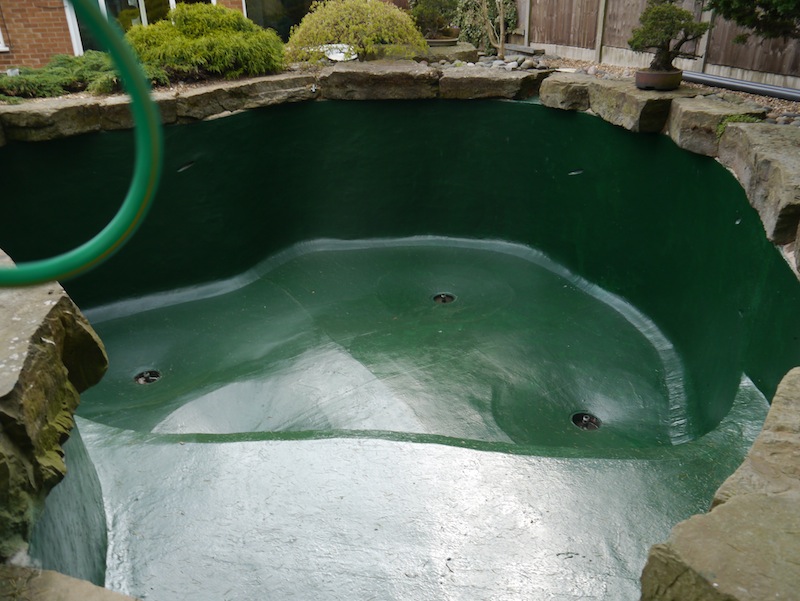 Thankfully Ian is also expert with electrical installations and pretty soon we had light and power in the filter house –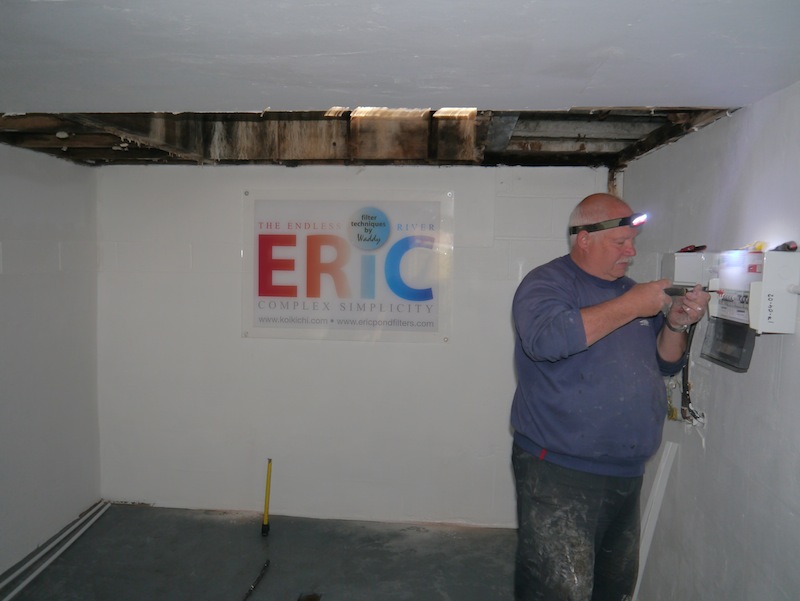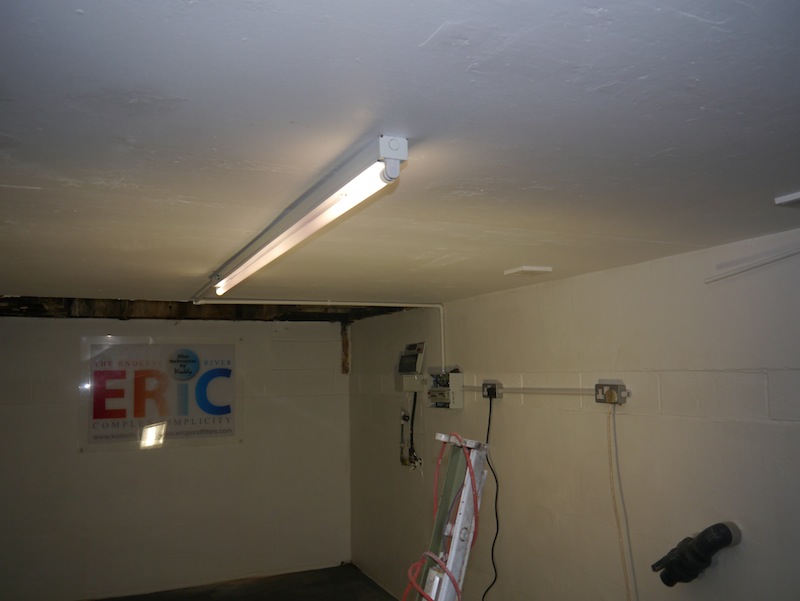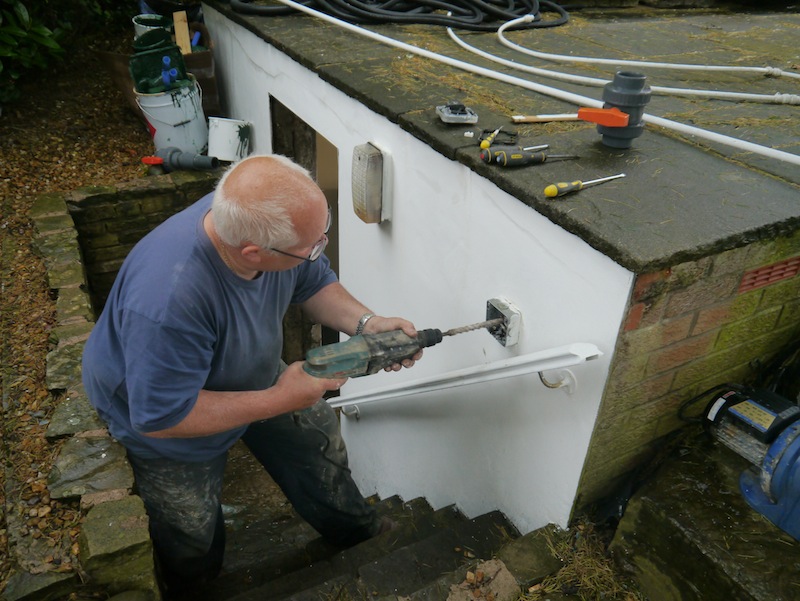 Furthermore the filter house ceiling and walls had been re-painted and the floor was re-sealed with floor paint.
Then followed a posh new door and a roof light in order to get natural light inside the filter house –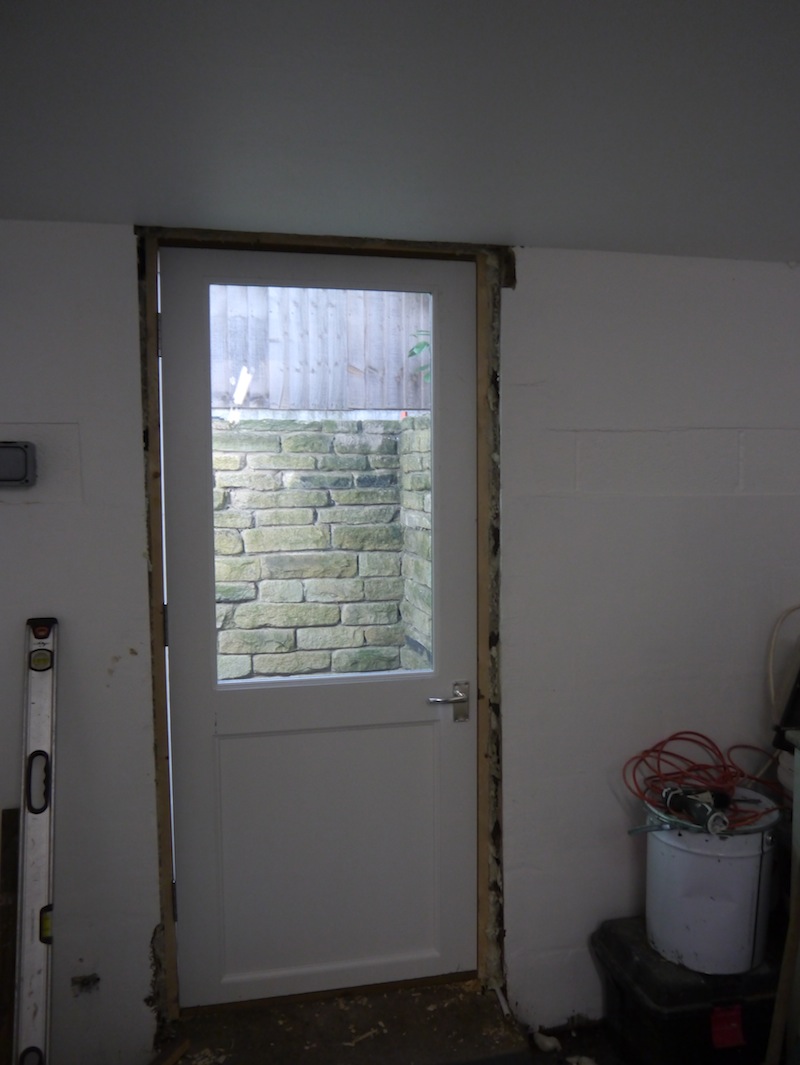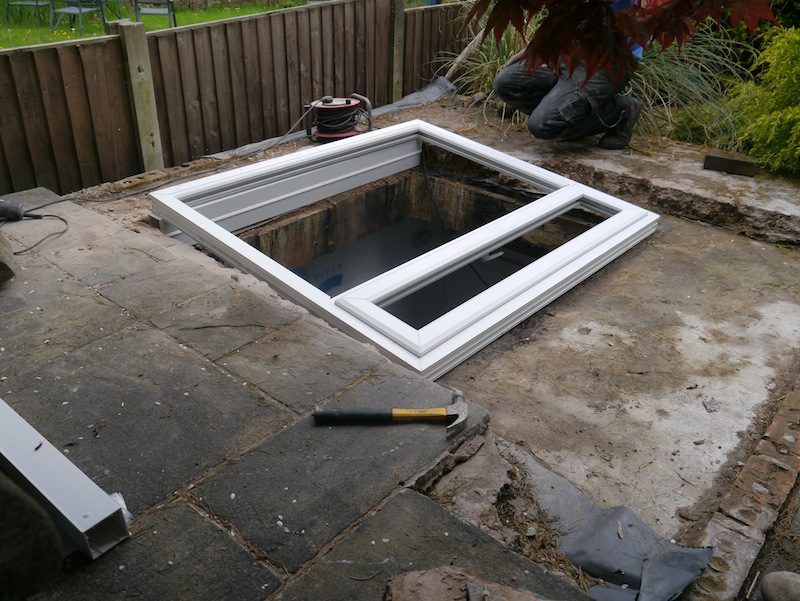 By then I'd already decided that this was not to be a compromise, in truth it was to be a serious installation that I could demonstrate to others in the future.
A major problem here is my filters are made in black polypropylene; I needed a box that was see-through so my Eric Four is made in clear UPVC.
However, clear UPVC attracts algae so I have to keep it covered with a blackout sheet that can be removed when required.
In order to add a touch of humour to the installation I decided to name my filter 'Erica' and have the frames and a stand finished in pink! Here are a few shots –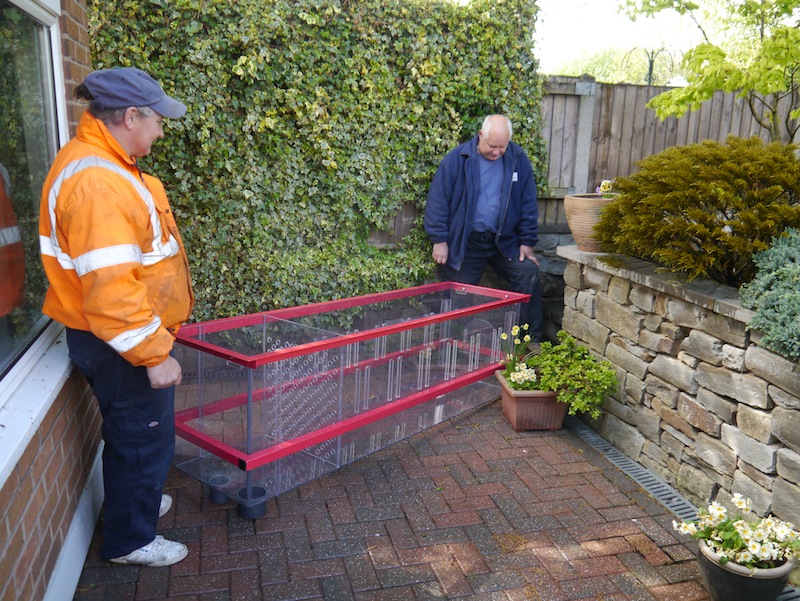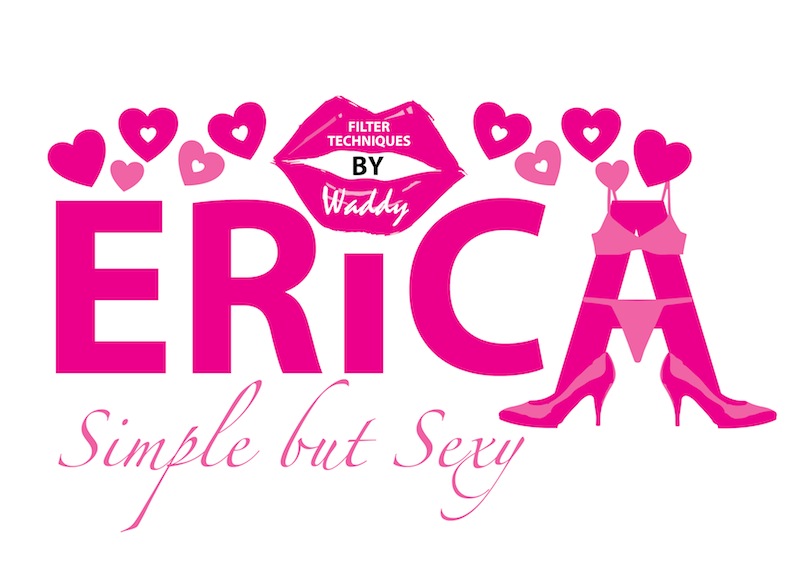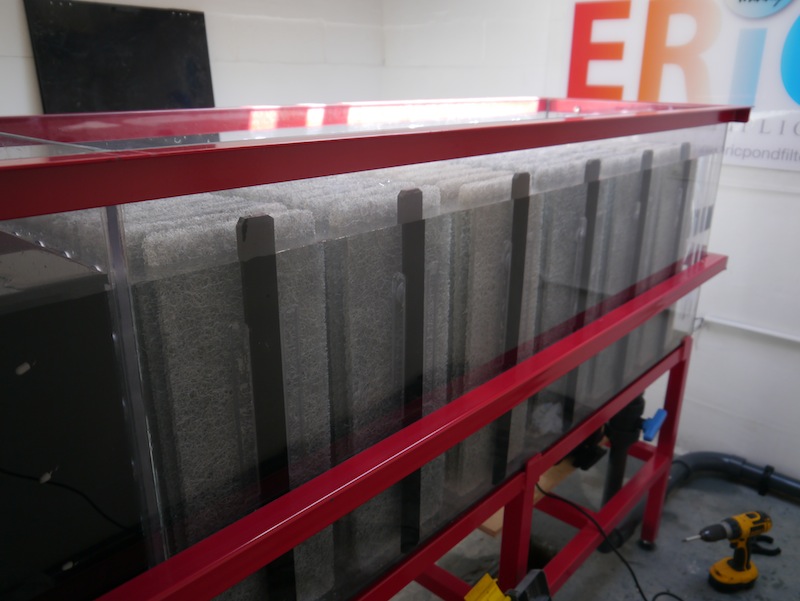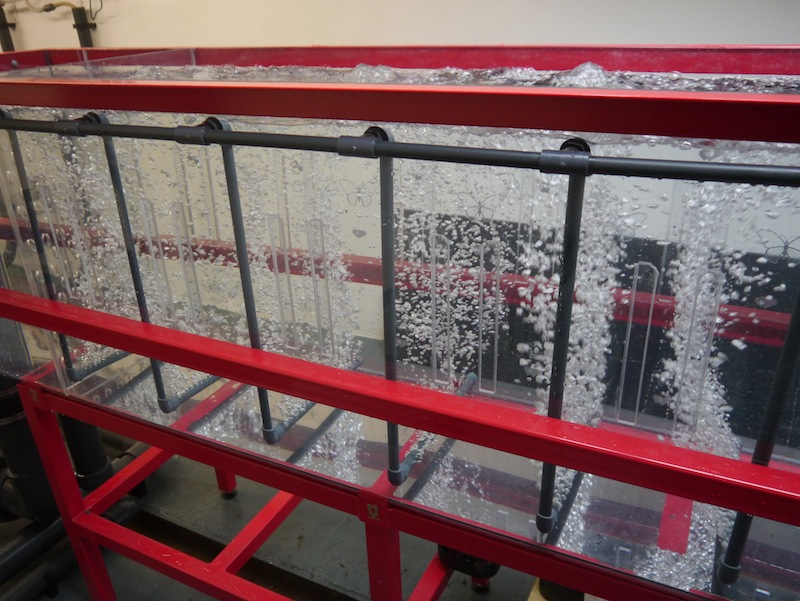 Oh and believe me, the installation wasn't ALL plain sailing.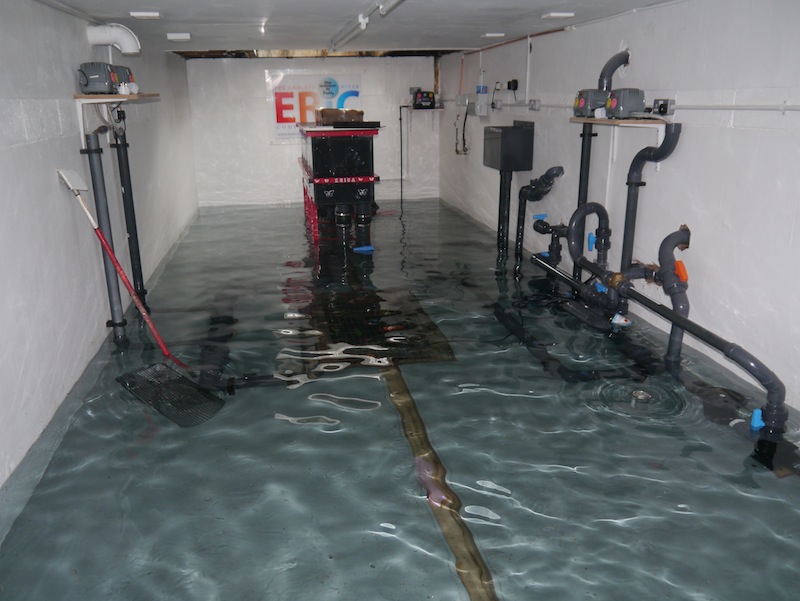 By the end of June there were Koi in the pond and all systems were GO!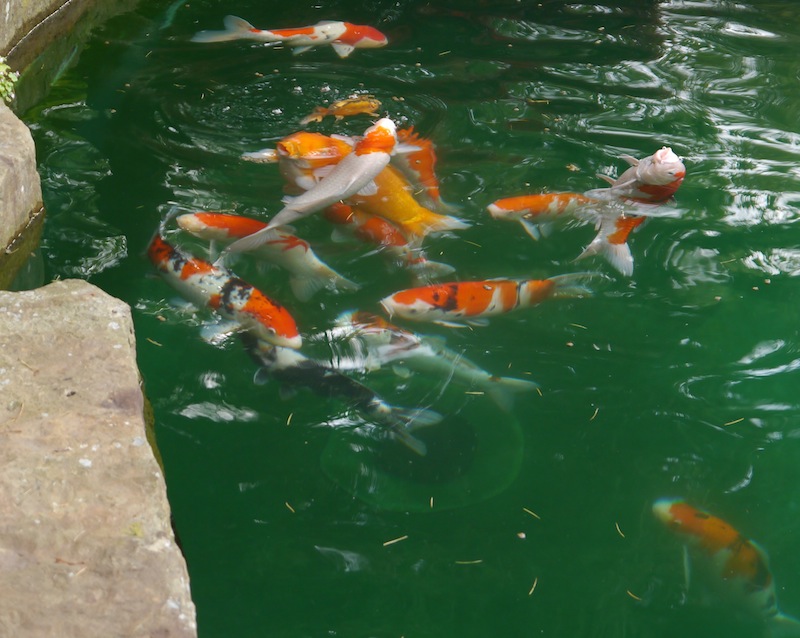 I'm using a submersible U/V in the waterfall header tank –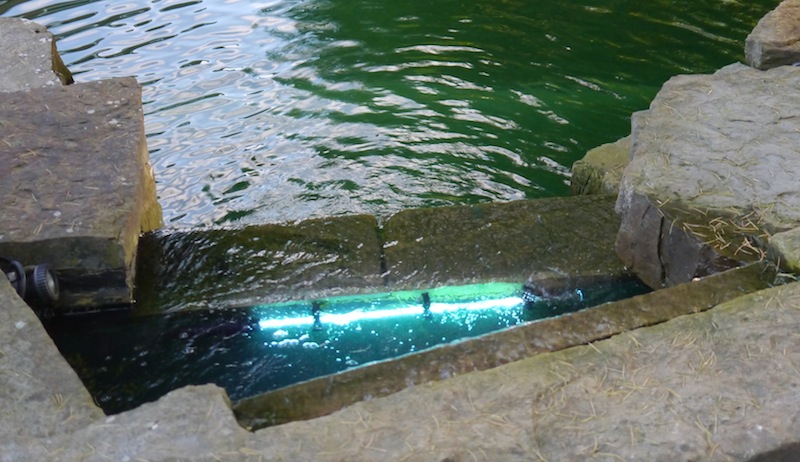 And a 2" flow meter in order to know for sure the flow-rate that's going through the filter –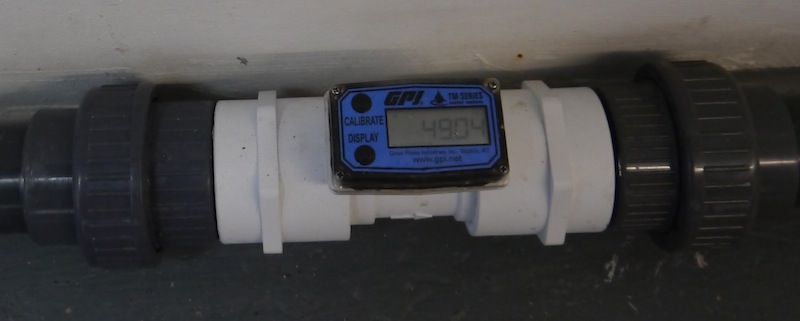 In early July, some friends came around for a small opening party where the filter was demonstrated –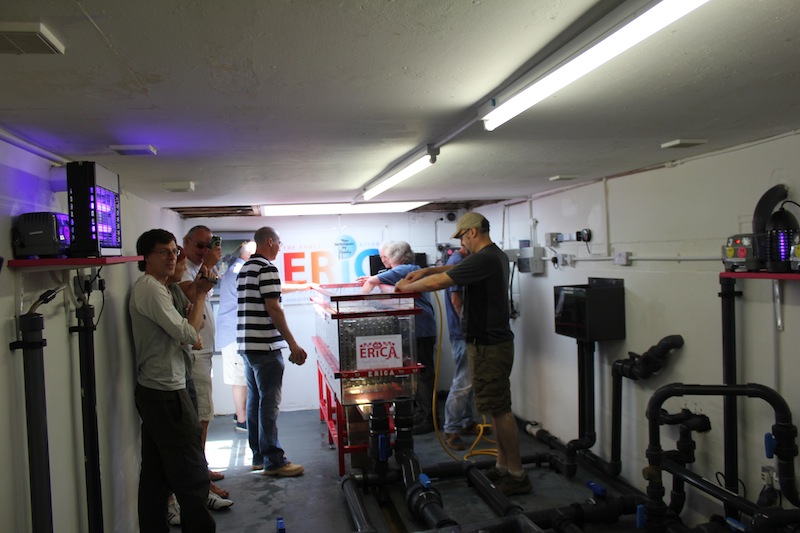 To re-cap, this is a scale illustration of the pond layout as of now –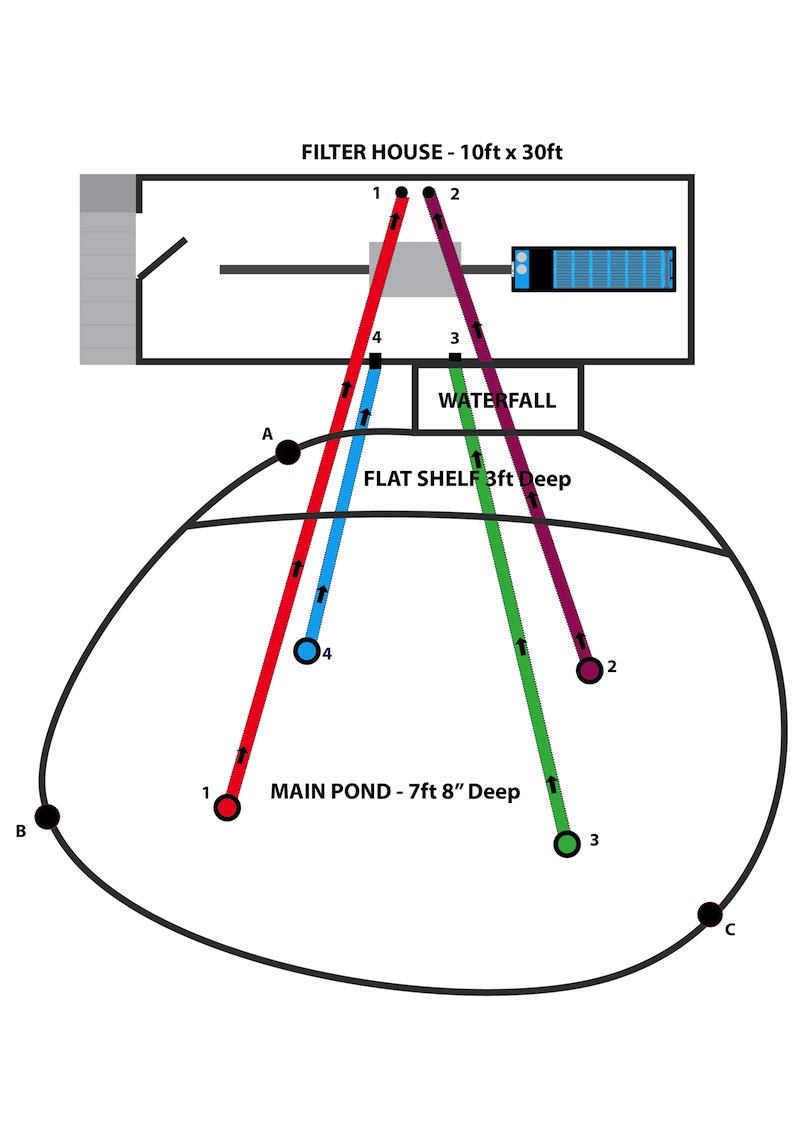 Can it be true that this tiny stand-alone filter system that holds only 120-gallons of water is processing 16,500-gallons of water?
Since July I have been subjecting the filter to some of the harshest of tests possible.
There are now 142 Koi in the pond and I have been feeding them large amounts of the messiest of foods to purposely produce a serious challenge for the filter and the water clarity –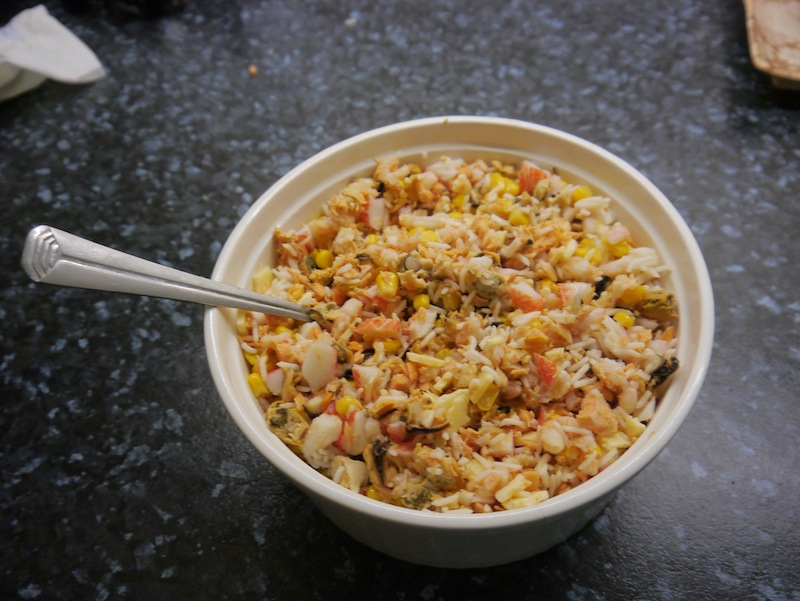 Believe me, the amount of waste produced by this food is significant and every day I allow all the waste from each of the four bottom drains to enter the filter.
This are typical shots of the waste entering the filter –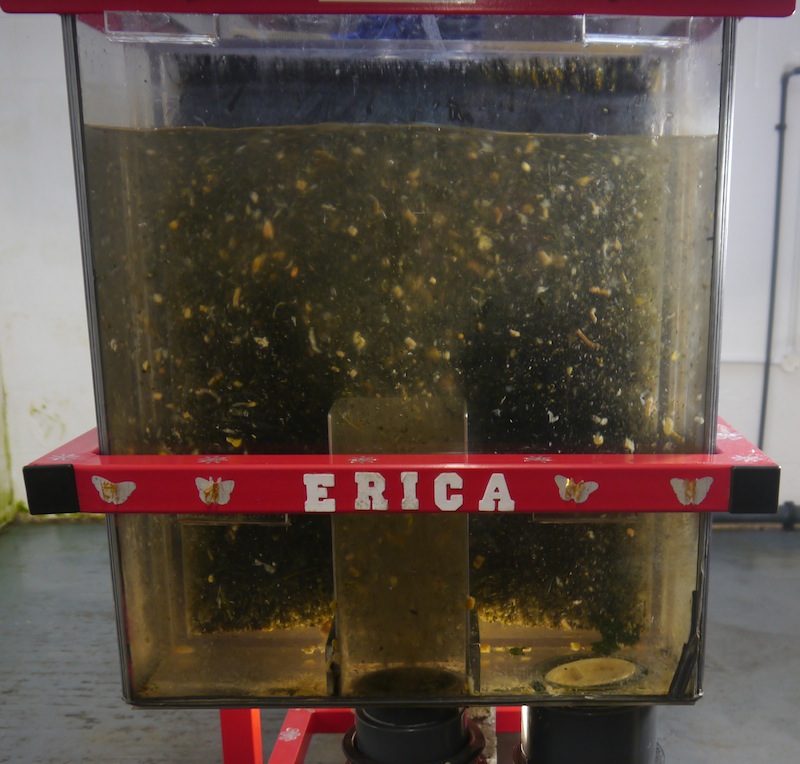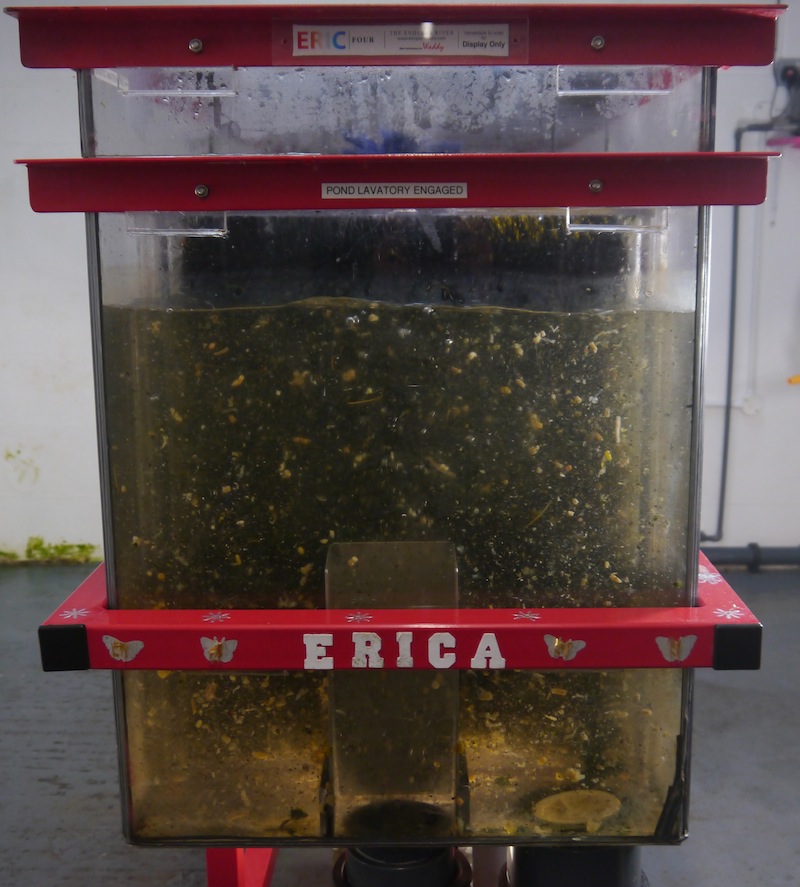 A video is being prepared to show just how long it takes for each drain line to clear of waste.
When I'm finally sure all waste has been taken into the filter, I discharge this amount of waste together with 120-gallons of water and my filter is once again brand-new.
When I re-fill the filter, the water level of the system drops so little, it's hard to see that they filter has been cleaned and discharged to waste.
Here are some more facts surrounding this installation –
The flow-rate through the filter is only 2,250 gallons per hour.
This is achieved by using a 120watt water pump.
I'm only using ONE water pump on the filter system.
I'm only using ONE air pump on the filter system.
Since starting up the filter system there has been no trace of so-called 'new pond syndrome'.
No adverse water readings.
No urgent water changes.
It takes me less than five minutes to service the entire pond.
In high water temperatures with high feeding rates I'll service the pond twice daily.
In normal water temperatures I service the pond once daily.
In cool water temperatures I'll service the pond once weekly.
The filter is a standard Eric Four unit, there are no add-ons before it and no add-ons after it.
This is the only filter system I know of that can be fully automated.
Had I read these texts only five years ago, I would still be laughing now!
So to summarise –
Hilary finally has her garden back.
I'm so mesmerised with how the filter performs – I'm spending far too much time in the filter house!
The filter house is now a real test bed for my other filter models.
Thanks to Ian Miles, these are now the views that greet me when I look outside my office window –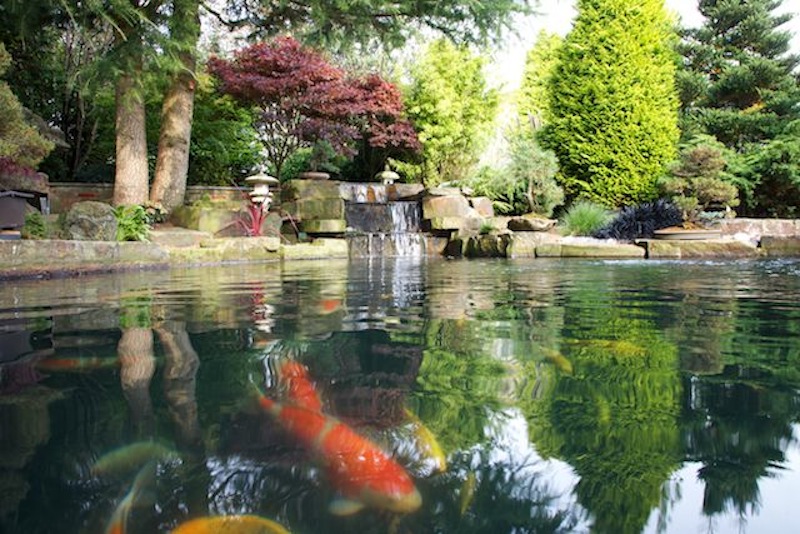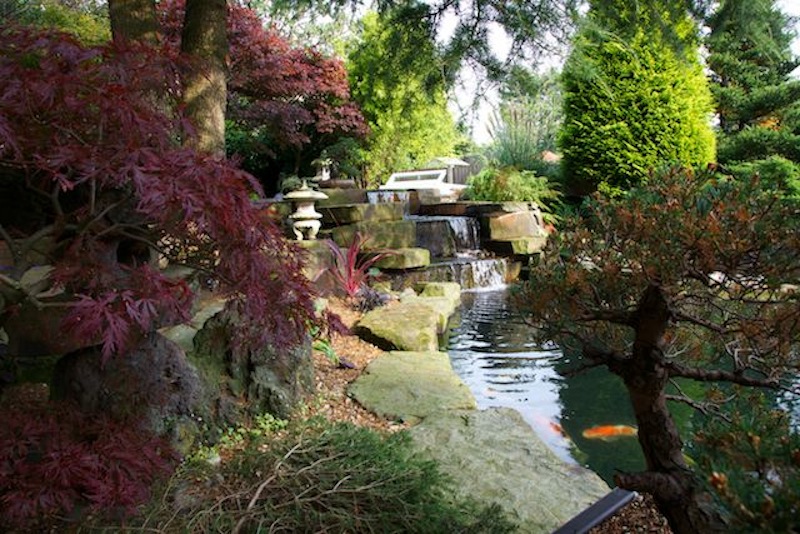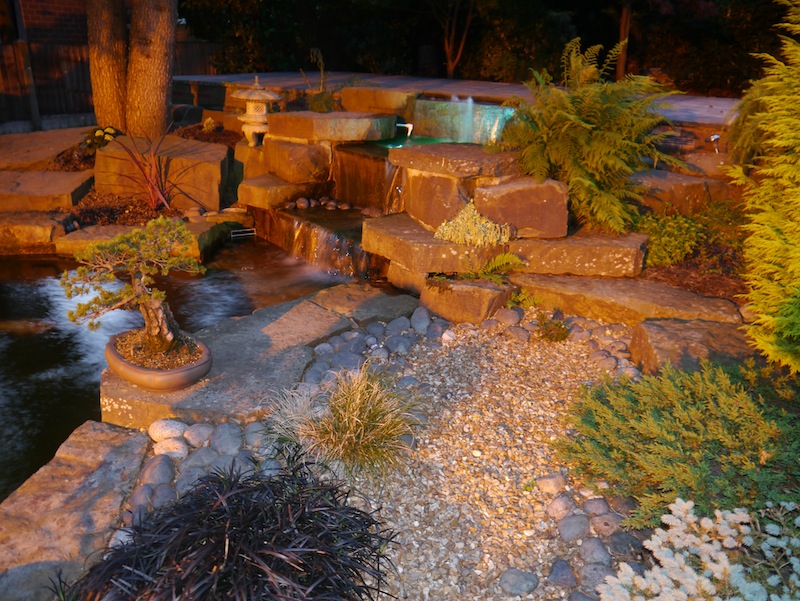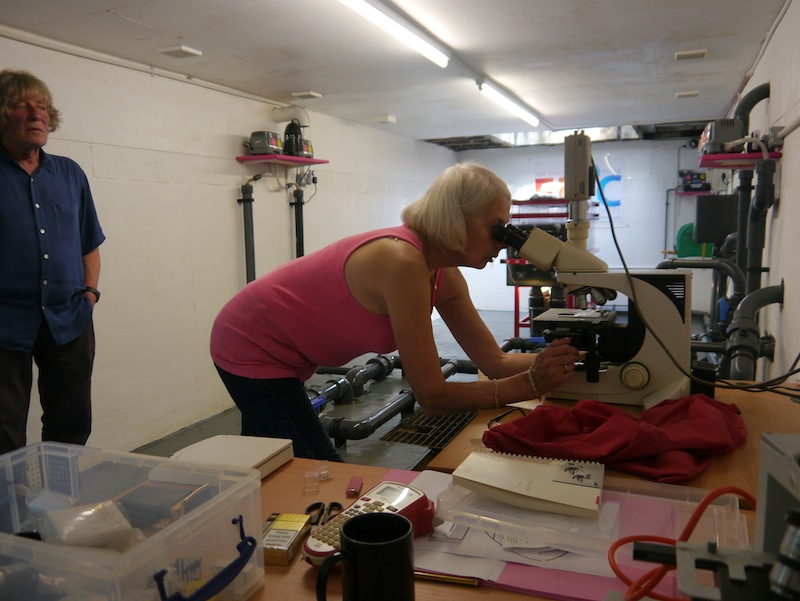 Oh, and the filter house has now been put to proper use –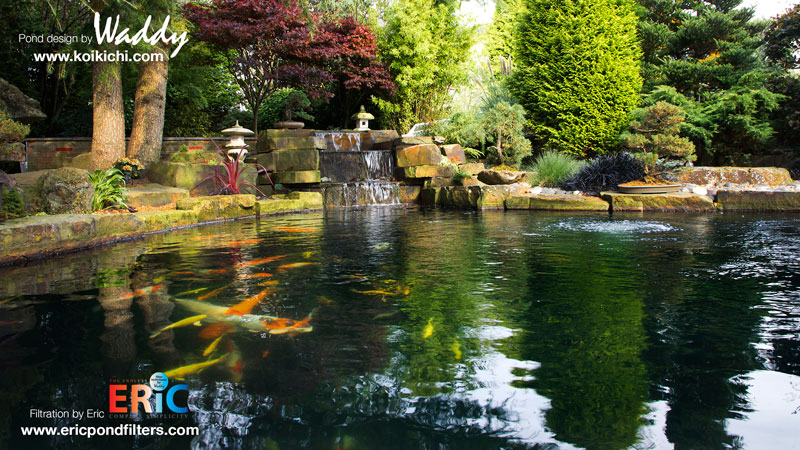 Waddy.