Chapter Seventeen.
There are many breeders producing the variety we know simply as 'Goshiki' but this innocent name consists of a host of different 'styles', so much so that these various styles may just as well be classed as separate varieties.
All Kohaku are white Koi with red patterns; all Shiro Utsuri display black and white; all Sanke have white, black and red pigmentation and all Ochibashigure display the colours of Chagoi and Soragoi – it's all pretty straightforward.
This is not the case with Goshiki – far from it. Those produced by Hosokai look a world apart from those produced by Yozaimon and those too look a world apart by those produced by many other breeders who produce this variety. To confuse matters more, these are all entered in most shows under the classification of 'Koromo' along side Aigoromo and Sumigoromo.
Here are some examples of 'Koromo' to highlight the wide range of differences in styles.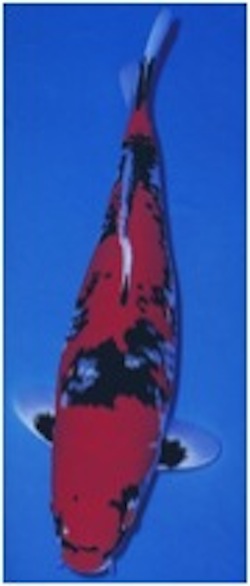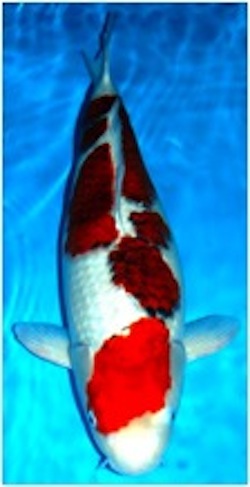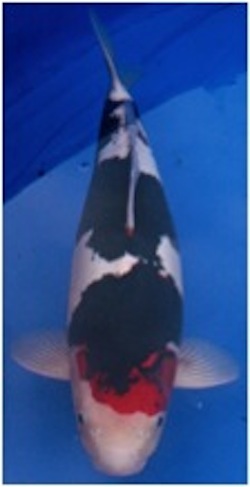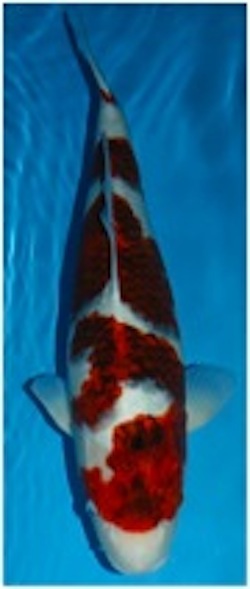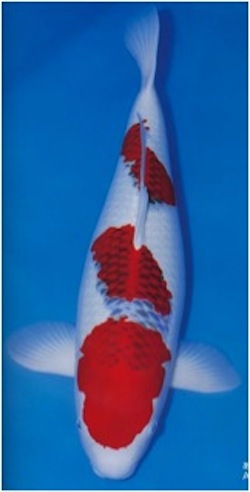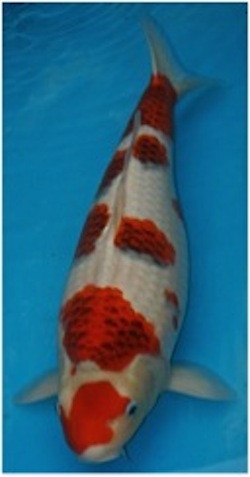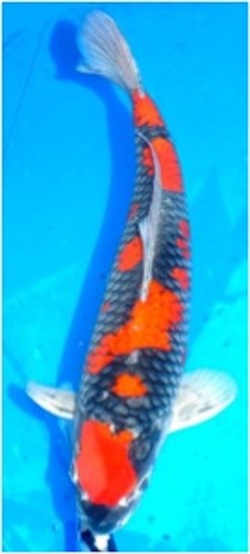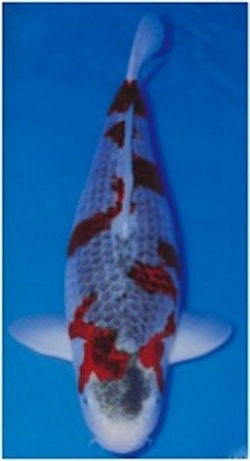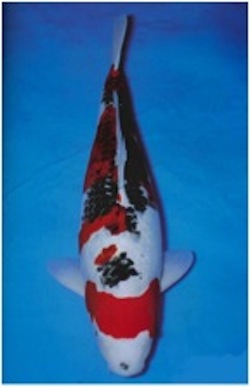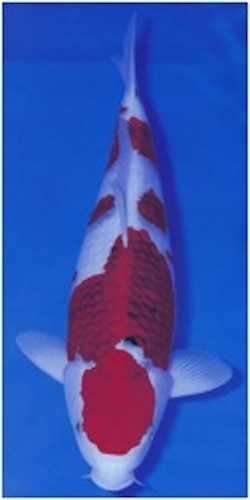 As mentioned earlier another challenge Toshio set himself was to produce the finest Goshiki in all of Japan by way of a magnificent Sumi Goromo female but this was a few years later after he had produced the first Magoi Sanke. I first saw a selection of the tiny tosai he first produced from the first spawning and these were pure Sumi Goromo – exact miniature replicas of the female and remained that way for two years or so. By then these offspring were taking many small size awards in Koromo class at major shows and were in great demand. It was only a year or so later that I witnessed the latest Goshiki tosai were still displaying the Sumi Goromo patterns but the grey Goshiki patterns were also forming in areas of the ground that was previously white.
I did mention this and Toshio replied that they were 'Sumi Goromo Goshiki' as opposed to Sumi Goromo. I was well aware that the original female parent had been lost and I did wonder where the parents came from in the tosai Goshiki that were produced each year.
I can't be exactly certain but I believe the first time I saw large Goshiki tategoi coming out of Toshio's mud ponds was around '99 and I do confess I was surprised to see them coming out of ponds hitherto reserved for Go-Sanke only. As some of these better specimens continued to grow, Toshio often mentioned that some of these were his – 'All-Japan Challenge' but they were totally different to any Goshiki I had seen before. By the time 2000 came around his Goshiki could also be seen at Yamamatsu and Marusada.
I often studied many of his Goshiki as they attained larger sizes and by larger I mean larger than most other Goshiki I had ever seen before. In my experiences the Goshiki varieties I had seen before never attained true jumbo proportions but by 2003 some of Toshio's best Goshiki were pushing 85cms.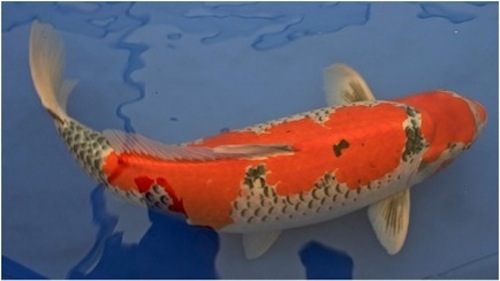 One of the best of Toshio's Goshiki won top award in classification at the All-Japan show in 2002 when she was 82cms, and this shot was taken at the BKKS National in 2003 where she walked the first award in class but caused such comments from a great number of visitors that many actually considered her to be justly worthy of the Supreme Champion award, which of course was not possible.
Please consider the picture because two things stand out to me. The first is the Magoi skeleton and the next is the beni itself – again a totally different beni to any other beni produced and the only other Koi I had seen this with was Doris. One had only to look closely to see the almost metallic surface sheen of it; another Koi that Toshio pointed out to me that it would never contract hikui.
Although he didn't mention it to me, I am certain that during his experiments with the parents used in his Goshiki production, there must have been some intentional introduction of his Magoi blood along the way. The man said he would produce the finest Goshiki in Japan and, as promised, he did!
It must not be understated that, whilst Toshio was the genius behind all his many achievements, his right-hand man Igarashi Hiromi played a very great part in it all as he also had his finger firmly on the pulse. When Toshio first realized he needed another like-minded person to assist him it was Toshio's wife who first suggested her brother Hiromi to him.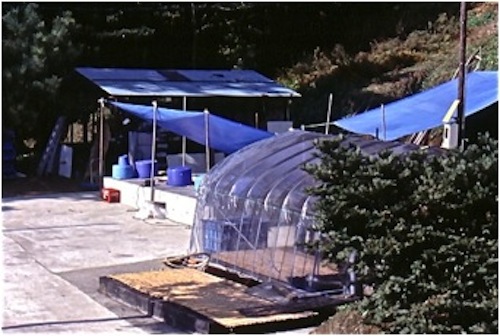 Igarashi Hiromi sales facility in Mushigame.
I have often mentioned that, for me, Mushigame village is he most exciting place on earth when it comes to Koi but I have often wondered what it must have been like to live there in the days when Toshiyuki and Toshio were children.
There certainly cannot have been very many Koi around in those days and I do know that Toshio's father and Masaru's father were both farmers before they took up breeding Koi to supplement their income. Kazuto didn't start Koi production until 1965 and Toshio must have been 19 years old and thinking of Isawa back then. I must have been a very close-knit village in those days and it's the same today.
When I interviewed Hiromi he mentioned that his childhood ambition was to become a motor mechanic after seeing the first vehicles passing through the village and then took note as more and more arrived as he was growing. Hiromi's parents are still looking after Hiromi's Koi in Mushigame during the summer months whilst he lives in Isawa and he still has a small facility in Mushigame he opens every autumn to display the best Koi he has produced. Many other breeders in the village also call him upon especially for assistance when the Oyagoi need spawning.
No doubt Toshio commands significant respect throughout Japan for his achievements but, be assured, I have heard many similar comments from major breeders regarding the expertise of Hiromi Igarashi.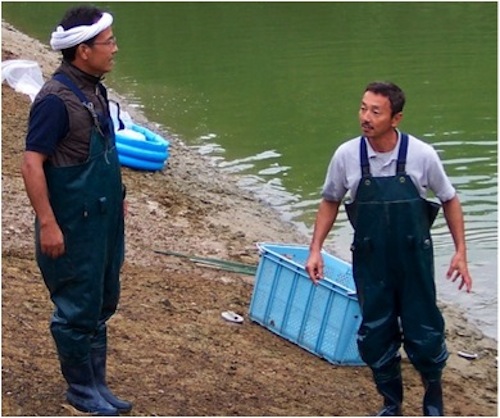 Toshio and Hiromi.
Back in '96 when Fujio Oomo was considering setting up a Koi farm, I needed an interpreter in order to speak with Toshio regarding an important visit and a lecture he would be giving in the UK some weeks later. Fujio speaks perfect English and I thought he would be ideal for the brief discussion but when I mentioned that the guy I wished to speak to was Toshio he almost had a nervous fit! He'd heard of the man and his reputation often but he had never seen him; it took an age to convince him that he wouldn't bite. He did the translation for me but I don't recall ever seeing Fujio so nervous.
Once whilst he was staying with his brother we passed by and had a brief chat, I mentioned I was on my way to Hasegawa to look at some sansai Kohaku he'd harvested. Toshio had never heard the name before so he climbed in the truck and came along with us. We arrived to find Mitsuo and his wife tending to their potted plants until Mitsuo saw Toshio and the expression on his face would have been similar to a devout Roman Catholic seeing the Pope stepping into his garden to pay him a visit!
Neither of them had ever met before but it was obviously a shock to Mitsuo's system judging by the expression on his face. Whilst we were looking at the Kohaku, Toshio pointed to some nisai tategoi and, after a few minutes, had bought them. For months after, Mitsuo reminded us that Toshio Sakai had actually bought Koi from Hasegawa!
As to the man being able to come up with world-beaters there is no doubt at all of that. I just checked recently and there have been 13 BKKS National shows and 13 Supreme Champions since 1996 and Toshio has bred nine of those Supreme Champions.
One purchased from Torazo and the others from Isawa.
In '94. '95, '97 and 2002 his Koi took Supreme Champion awards at the Shin-ko-kai All-Japan show and there are very few major breeders in Japan today who do not use some of Toshio's 'Magoi' parents with the cigar skeleton for their offspring.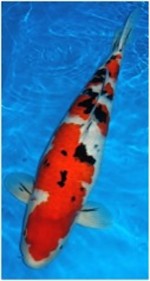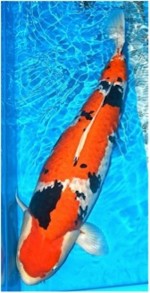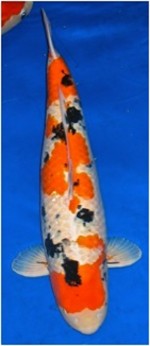 I have many breeders in Japan to thank for their time and patience in passing on much information and teaching me many things. Hiroshi Kawakami of Torazo showed me the ropes in the early days before Choguro took over and in more recent times I have much to thank Masaru Saito for but there's no doubt I am eternally thankful that Toshio was always my headmaster.
And speaking of 'heads', Toshio's was always 25 years ahead of the present time; the eternal challenger who planned the future and it all came to be exactly as planned.