No doubt it was Minoru Mano of the Dainichi outlet who first 'broke the mould' as to the decreasing value of earlier bloodlines and it was a strange and unique story I still recall and think about today. Here was a young man whose only real connection with Nishikigoi was the fact that he grew up in Iwamagi village, the 'hot-bed' of Koi at a time when his neighbours were handling some of the finest Nishikigoi ever produced.
Izumiya acted as broker for many All-Japan Champions in those days, some of which were taken to him by smaller breeders to be put on display at his large outlet that was right there on the roadside. These smaller breeders had no roadside outlets and few had covered facilities but one or two had produced the odd, very rare 'one-off' Koi and Izumiya became the broker for the final sale.
Minoru, who had no 'Koi background' as such, was fascinated to see his childhood neighbours selling Koi for astronomical sums of money – apart from just Izumiya because the nearby Tamuraya outlet, then famous for incredible Kohaku of the day, played a great part in Minoru's learning curve. It was in the mid 1970's that Minoru decided to breed Yamabuki, alas his first attempts were openly ridiculed by the late Ichiro Mano, the real legend behind Izumiya as being 'amateur beyond belief'. Undeterred Minoru then paid endless visits to all the breeders in Yamakoshi and asked them as to what they would like to see in regard to 'Nishikigoi Perfection, – he listened and remembered it all – he then began to produce Kohaku.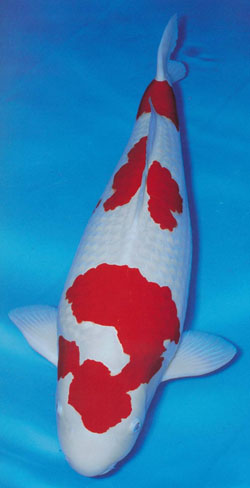 However, and as usually is the case, in Nishikigoi production – and always will remain to be, is that exceptional luck and good fortune played the major part in his future success when he decided to use one male Kohaku he had for sale (with no takers) as a parent for one female. By 1982 the hitherto unheard of 'Dainichi Line' was famous throughout the Japanese Nishikigoi world and probably turned outdated beliefs and traditional breeding methods upside down.
This Dainichi Kohaku went on to become one of the most famous Kohaku ever produced.
Around 1982 Toshio Sakai shunned his father's Matsunosuke line of Sanke by adding Magoi milt to the 'stunted' parent stocks and it would be another 20 years before his 'Matsunosuke Magoi' line started to wreak devastation at major Koi shows.
To further add confusion to these new-found ways, around three years later Hiroji Sakai from distant Hiroshima began paying fortunes to purchase all manner of varieties from prominent Koi collectors all over Japan. Again, these were all simply 'one-offs' that had won major awards in classification at important Koi shows. Whilst some of these specimens produced eggs, many did not and so some significant investments were wasted. However, some of his 'new-found' parents – together with good pairings – went on to produce 'lines?' – names such as 'Benibana', 'Beauty Rose' and many others, again these offspring had a serious effect on world-class Koi shows.
These three real giants and innovators turned around the old-fashioned beliefs in Nishikigoi production methods and they were the first to prove to the world that early bloodlines were now only of real importance to Koi historians. In later years, their very own efforts were seriously diluted when their offspring were openly used as parents by other famous breeders of the day.
For many years now it is the BREEDER who commands the real importance and NOT the bloodline. His importance in the overall hierarchy of Nishikigoi production all comes down to recognition by way of documented successes in major Koi shows that produce his CV or track record.
Today, even more so, it is the 'lucky one-off' that usually surprises us all, despite the truth that a few Koi are now being produced that could never have been imagined only a decade ago. Yes, the major breeders of today have far better odds in getting to these 'one-off' Koi purely because of the enormous numbers of Koi produced at their farms give them a far greater chance in finding this potential world beater.
Because Koi Shows are beauty contests and therefore competitions – they also require Koi judges to make assessments and decisions. These people come from all walks of life and give their time and expense in travel and accommodation freely, basically because they are Koi addicts in the nicest possible sense. As with any 'judge' in any other pastime – dogs, horses, ballroom dancing etc. etc. our individual Koi judges naturally differ greatly in terms of expertise and hands-on experience.
In most Koi circles, notably in the UK, would-be judges face a 'trainee status' first and are given information and advice on various matters before being allowed to accompany 'full judges' as they proceed to give results for a particular show. At the end of this term of 'apprenticeship' and after several exams, they are either successful or unsuccessful in attaining 'full judge' status. Once again, all out-of-pocket expenses (sometimes substantial) are met by themselves.
As to ZNA judges, it is a requirement that each one has a Koi pond that's all the background required before training. I have seen one or two of these 'ponds' and they are little more than ornamental puddles for goldfish with a few general grade Koi thrown in. I have often thought the better qualification required would be that of actually having entered their own Koi into a Koi show before being accepted into the ZNA fold. This would produce some actual practical experience of entering Koi into a show and all the care required to get the Koi there and back as those enthusiasts actually entering a show have to face.
It is only to be expected that there will be raised eyebrows in some quarters when some decisions have been made and this is the same in any pastime as well as Koi keeping. However, at the end of the day our judge's decisions are final. In my experience, after watching many teams of Koi judges still working hard late into the night in order to arrive at their very best decisions I have always considered them to be extremely diligent in their efforts especially when a particular Koi raises mixed opinions and thus causes serious and lengthy discussion before the decision is finally made. As can be expected there are some judges new to the scene that may tend to 'follow the flow' of others and there are some who consider that their 'eye' surpasses their counterparts.