Question – 'In what varieties of Nishikigoi are Tategoi found'?

Answer – More often than not – in female Koi, of all varieties and sizes. In small sizes female Koi can really only be accurately sexed after they become 18 months to two years old. Purchasing Koi below this age, as many do, is a pure gamble, where sometimes it pays off and sometimes it does not.
Tategoi are also found in male Koi, above 75 cms and over especially in Go-Sanke varieties or those with potential to become incredibly long in size and therefore pose a challenge to the coveted 'Jumbo' awards. In the 1998 All-Japan show, a male Sanke owned by Mr. Matsumoto took 'Best Male Koi in Show' award. After the show it was grown for one year in the Momotaro concrete pond in Okayama. The next year it was entered again with a tremendous improvement to length & volume where it went on to take 'Supreme Champion' award by a large margin of votes – that male Koi was also 'Tategoi'.
Male Kohaku – High quality tategoi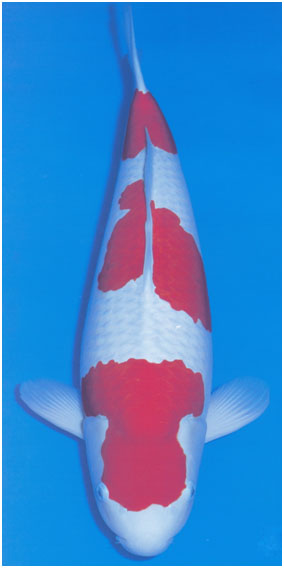 Question – 'Why is this so, I mean all varieties and all sizes can be deemed as 'Tategoi'?

Answer – Because there are world class Nishikigoi shows held in Japan every year, the big three, in order of importance are:-
1. The 'All-Japan Show' held in Tokyo during January.

2. The 'ZNA National Show' held in various parts of Japan during late November.

3. The 'Young Nishikigoi Show' ('Wakaigoi Show' – maximum size for entries 65cms.) held in the Ojiya area of Niigata during April every year.
---
All these shows are of vital importance to any breeder or collector owning Koi in almost every variety and size group which have the potential to take a 'First' award.

Question – 'Why'?

Answer – Because the 'kudos' of taking a 'First' in ANY entry classifications and size grouping at any of these shows is a great achievement for both the breeder of the Koi and/or the owner of the Koi taking the award in view of the heavy competition around.

Question – 'Why'?

Answer – Because the guys entering the award winning Koi into the most prestigious Nishikigoi shows in the world know how serious the competition is. They also know how