Apart from my many teachers, namely the breeders who produce the finest Koi in the world I have also been very fortunate in meeting many of the famous early authors and leading Japanese enthusiasts who keep Nishikigoi and promote the Koi keeping hobby to the rest of the world.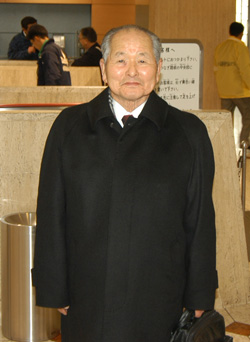 In 1982, the late Sadaichiro Miya, founder of the Miyakoya outlet presented me with a copy of his truly lavish and gigantic book 'The 100 Best Koi' he published in 1965. In 1985, on a regular visit to Mitsuo Hasegawa I met the famous collector Mr. Anabuki who had purchased a specimen Kohaku from him. In 1987, whilst escorting a BKKS party around Japan, I met the late Ryo Kamiya, another famous collector at the No-gyo-sai show. Dr. Takeo Kuroki published his 'Manual to Nishikigoi' in 1979 followed by his 'Modern Nishikigoi' in 1981 and, although I had read every page of these and also sold hundreds to others, I did not actually meet him until 1996 where I was introduced to him, via an interpreter, at the All-Japan show in Tokyo. (He presented me his card and then asked me to send him a copy of 'Koi Kichi' as he'd heard much about it, on my return I sent the book to him at his home in Kyushu.)
Of course there have been many others who have been, in one way or another, responsible for the promotion of Nishikigoi I have come across in my travels, and most are detailed elsewhere on this website. However, if I were asked to highlight the most important one single person it would have to be the living legend Masao Kato.
His recent achievement at the 2010 All-Japan Koi show held in Niigata City prompted me to document my experiences of the man and so I'll try to keep them in some kind of date order.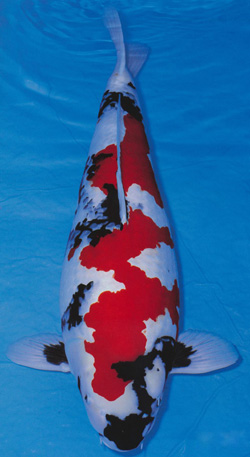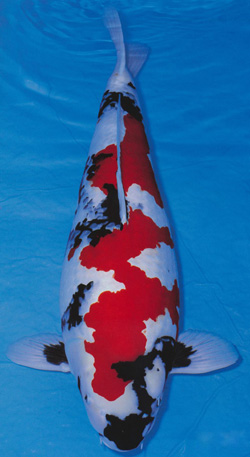 I think I had seen Mr. Kato on several earlier visits to Yamakoshi but he first approached me in 1984 when I was taking part in the judging at the All-Japan show in Tokyo. It was Megumi Yoshida who took me over to meet him on the Saturday and Kato san seemed impressed and pleased to see an overseas Koi dealer in attendance. He had a beaming smile on his face that day; in later years I discovered that he always had a beaming smile on his face!
The next meeting was in Yamakoshi in autumn 1984 at Izumiya when he was looking for more Koi to purchase after the harvests. He mentioned, via the young Seniichi Mano, that there were many Koi for sale up to 100,000yen (then £166.00 – now £740.00!) but very few special Koi that he wished to buy and seemed to be very disappointed but still had the smile! It was then I first noticed he had two companions with him, I assumed they were fellow collectors but some years later discovered that they were his agents who accompanied him on every prospective buying trip. The two men come from south Japan and are his joint negotiators with the breeders and lend their opinions and expertise to Kato san whenever a new potential addition is being considered.
In 1990, I visited his home to see hundreds of Koi in many ponds plus trophies from major Koi shows in a special room, he also has a passion for bonsai judging by the enormous numbers of trees he owns.
Kato san has played a leading role in the largest amateur official body of Koi keepers, namely Zen Nippon Airinkai (ZNA) for many years and has travelled all around the world to visit overseas chapters of his society to judge at various events and further promote the spirit of the hobby. He was chairman of the ZNA until his retirement in 2008.
Kato san's Koi collections come from breeders all over Japan and some are sourced by his agents from farms in the south of Japan, however it is Niigata where most of his Koi are purchased.
Although he has owned scores of world famous specimen Nishikigoi over the years, this is probably the most famous and has been used for calendars, Koi food packaging and re-printed in just about all of the world Koi publications. Some have termed it as 'The Inazuma Showa' which was produced by the late Minoru Mano, owner of the Dainichi Koi farm in Minaminigoro.
In late 1995 I saw him coming out of the Shintaro indoor house with his agents, I presented him with a copy of 'Koi Kichi' and showed him the page where he shared a photograph (above left) with Ryo Kamiya taken at an earlier No-gyo-sai show. I must confess he seemed very pleased about it.
Once again, the famous Kato smile as he observes his Koi being harvested. (above right)
For as long as I can recall he has not only promoted the Yamakoshi breeders in the very best way possible – namely by purchasing many of the very best Koi they have produced – he has also taken overseas ZNA members to visit them on annual visits after the harvests. Furthermore his best Koi are kept for summer periods in field ponds he rents from breeders such as Nogami, Marusada and Dainichi although some of his Koi are kept with the breeders who produced them.
Since the mid 1990's I have attended the spectacle of witnessing Kato san's Niigata pond harvests that are delayed until mid November just before the ZNA All-Japan show is held. Towards the end of the 1990's he had his own indoor facility built and managed by Hisayaku Nogami on the outskirts of Ojiya City.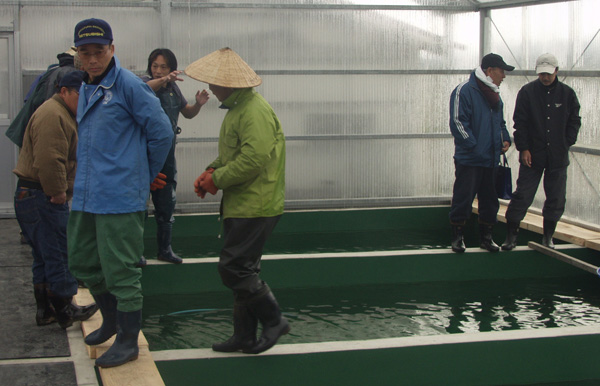 This is a shot of Kato san's Ojiya facility (above) ready for delivery of his stocks from the field pond harvests. All the Koi are returned here and measured, then recorded to compare growth rates from the previous year. All the major breeders in the area take part in these events, the ones here are waiting for the trucks to arrive.
(On the far right is Tsuyoshi Kawakami from Torazo speaking with one of Kato san's agents and his other agent is in the brown jacket. Seiji Hiroi is in the green jacket, Toshikatsu Ikarashi from Marusada holds his hands in the air whilst Takeo Hoshino from the Hoshiyone Koi farm in Takezawa is in the blue jacket.)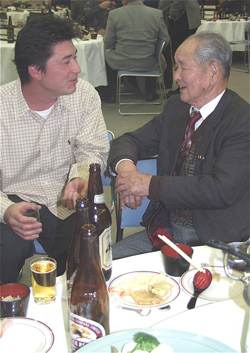 Kato san's harvests can take over four days to complete but, at the end of it all, there are Kato san's famous parties to attend (both in the afternoon and at night) where just about every breeder and every overseas visitor has an open invite to attend for wonderful food and endless supplies of liquid refreshment!
This shows one such evening party scene with Kato san and Hiroshi Mano.
I do recall one of Kato san's late harvests that did not go exactly to plan and the night prior to the harvest produced a very heavy snowfall in Yamakoshi which had not been forecasted.
The pond due to be harvested was owned by Marusada and was high in the mountains past Tanesuhara.
We assembled in the morning at Marusada to find 30cms of fresh snow to be advised that the snow higher in the mountains was over 45cms. I can still recall events of that day when special vehicles and tyre chains had to be used; I also remember several vehicles that had to be abandoned along the way.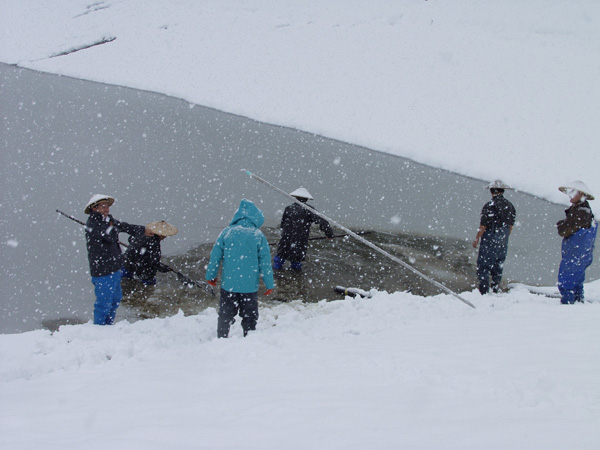 When we finally reached the pond after trekking across fields of thick snow the pond was coated with ice that made harvesting impossible. A small area was made free and siphon tubes had to be inserted to slightly lower the water level by discharging them lower down into other ponds in the hope the ice would crack and some pieces could be removed to give access for nets. After several hours we had to abandon the attempt and returned the next day in order to complete the harvest but there were many concerns that the Koi would have suffered even in that short time period of exceptionally cold water.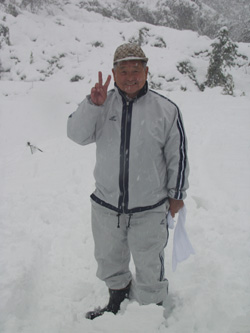 Kato san assured everyone that things would turn out fine. When the Koi were finally returned to his indoor facility there were signs of skin 'reddening' on several but, after a couple of days of an increase in water temperature, all the Koi appeared to be in perfect condition.
Although I am not sure, Kato san must have bought more Nishikigoi than any other private collector in the world and as to the total price paid – I could not possibly hazard even a guess!
He may well have retired from his ZNA official duties but I'm sure he's there in the background still to call upon for advice. He most certainly has not retired from entering the most prestigious Koi show in the world and coming away with Supreme Champion award once again!