Despite information that can be found today from various areas, designing a truly perfect Koi pond system is far from easy, especially for a newcomer. Projects such as some seen here are more akin to civil engineering as opposed to producing simple garden ponds.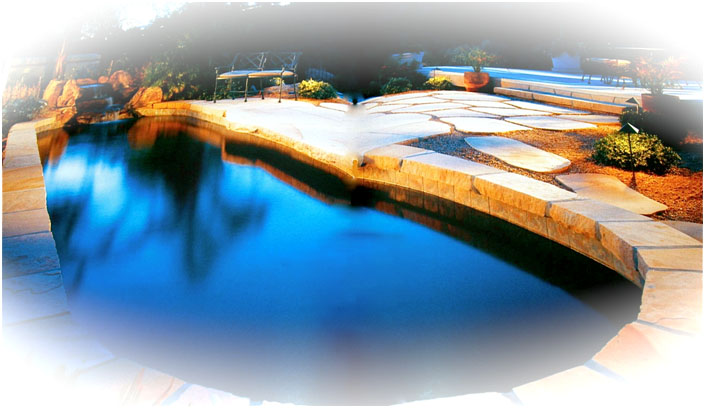 I have been involved in designing world class Koi ponds such as these for many years – right from breaking ground up to final landscaping.
They are the home of some of the finest Koi collections in the world. In view of this the systems need to be given serious forethought if they are to produce perfect conditions for the Koi within.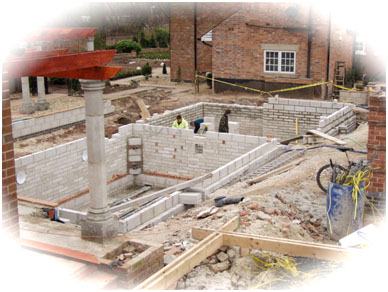 Needless to say, the larger the system required the larger the cost outlay but do bear in mind the fact that a perfect large system is merely a series of perfect smaller systems overlapping each other.
One thing is certain; projects such as the ones seen here can be a huge waste of labour and money if the initial designs are flawed.
By far the largest cost centres for any 'proper' system are those of labour and waste removal aspects involved. Building an extension for a house is pure simplicity in comparison to some Koi pond installations.
Large bore 'pressure' pipelines together with hundreds of perfect joints are required for these installations, these are all buried from view as the project continues and so great care is required when positioning and connecting these items. I work with a few talented individuals in the UK who specialise in the many different aspects of these systems from base and build methods; pipeline and equipment installation; perfect waterproofing and even final landscaping designs.
Over the years I have been involved in this very important aspect of 'Koi Keeping', I have seen hundreds of systems installed in gardens that are truly wonderful visually – alas they are far from 'wonderful' below ground. In many instances they are later destroyed and re-built after their shortcomings can no longer be tolerated – all this comes with significant added expense.
Many years ago, I came up with a saying that is now used commonly in the 'Koi World' namely –
'The cheapest possible way to build a perfect Koi pond, is to build it once – but build it properly!'
this is still the very best advice I can give today.
Irrespective of where you are in the world I can give valuable advice together with some real cost-savings that will assist with your proposed Koi pond in order to get it right – the very first time!
My services start with a basic design for a small Koi pond system for as little as £75.00 where I will supply basic plan views of the finished system. For larger volume designs I first need to see what is required before I can quote a firm price for the work involved.
I can also work on a full consultancy basis whereby I will monitor and advise on all aspects and stages of the entire installation from breaking ground to final completion; again my charges are based on the requirements specified by each individual client.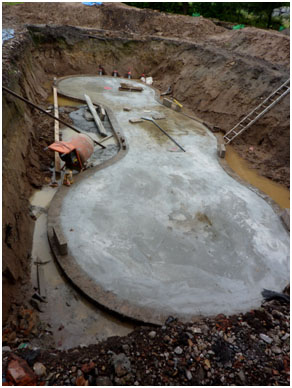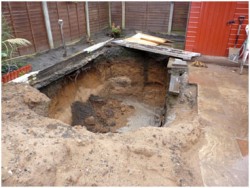 Whether it's a larger system as seen on the left or a smaller system as seen above, please do bear in mind that every system is unique in one way or another and must therefore be treated as such.
I can assist in giving valuable advice and recommendations for a perfect design together with all materials and items that will be required to produce a finished masterpiece that will be enjoyed by both yourself and your Koi for many years to come. Some designs can be truly complex by nature but all can be resolved by careful, advance consideration. This groundwork all goes towards producing the perfect end system.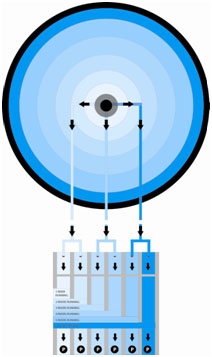 The importance of getting the maximum performance from bottom drains cannot be understated if the pond base is to be kept perfectly vacuumed at all times. If custom-made drains and surface skimmers are required then these will be included in the initial design.
(Design on the right shows 23,000-gallon (105 ton) 'perfect circle' pond with central custom-made drain)
Water flow-pattern and flow rates within the filtration stages are also of vital importance as are quick and simple, yet perfect discharge facilities for system maintenance.
As mentioned elsewhere on my site, there are items we need and others we most certainly should avoid. I only produce my designs to incorporate other items that I have tried and tested over a period of many years of practical experience in this field. In truth, there are few in the world today who can draw from this amount of practical experience in such a specialised and truly unique subject.
As a Koi pond should be a feature within a garden it should also blend in with the house and its surrounds. On completion of a system, all that should be in view to ourselves and our visitors is the pond, the surrounds plus water and Koi – full stop!
The last thing we need to see on open view is filter boxes, pipelines and assorted electrical items etc.
Whilst all these items must be included in the build of the system, it is not a requirement to have to look at them whilst viewing our ponds. As a result, final landscaping should also be seriously considered in the design stage.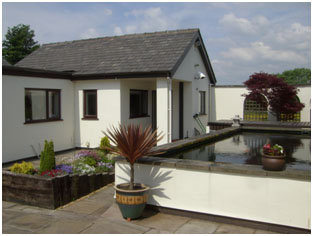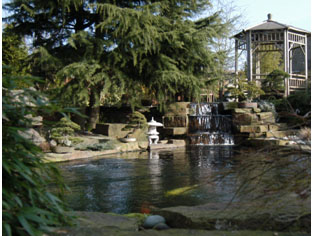 With final finish in mind, there are options as to pond style be it 'in-ground' or partially raised 'above-ground'. It may also need to be further considered for protection especially where pets and children are around.
(Herons and other natural predators rarely trouble a 'proper' Koi pond)
The shots shown above are some aspects of various installations showing some of the other work and items required to complete the final system.
This shot shows an indoor display pond of 6,500 gallons I designed and installed in my sales premises during 1986. The filtration system is concealed under the timber decking to the rear right of the picture. It also allowed customers to view the Koi from the decking platform.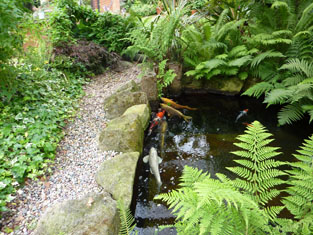 I can make recommendations as to final finish of your system, which may appear to look a little 'bare' on initial completion. However, the surrounds need time to mature in order to become a true delight as shown by this wonderful picture below. I designed this pond for a customer and it was installed to the letter. It contains only 3,000 gallons in total with one bottom drain at a six feet depth which supplies a single waterfall return to the pond via a U/V unit and a heater.
I took this shot in July 2009.
However, it was first started up in 1988 and has been running perfectly ever since!
All pictures on this page are of some systems I have personally designed – in most cases I have also supervised the total projects from start to finish.
Please contact me if you need my assistance with your proposed system – hopefully BEFORE you reach for a shovel or purchase anything at all!