Preamble.
I drove down there to arrive at 8.30 on the Friday evening and stayed for three nights in the most incredibly disgusting hotel I think I have ever stayed at in my life – and that includes days on the road in a rock band. My 'room' could possibly have had the space for two normal sized baths but this was taken up with a small bed. There was a TV from the '70's; a kettle with some tea bags and small thumb-sized cartons of milk; a low cupboard for a wardrobe and a sink. The toilet and bathroom was down the hallway, had Hilary been with me we would have been out of there in seconds. However, it was a last-minute booking, the website made it look like a charming country pub and it was only 3.5 miles from the showground. Seeing as I only needed a bed, I decided to stay the course. The hotel had a bar and signs outside said they made wonderful food so I washed & changed, grabbed the laptop and went down to the bar at 9.00pm. There was only one person in the bar and that turned out to be everyone required to man the 40-odd bedroom hotel and I seemed to be the only person staying there. I later discovered that he did everything in the hotel and he seemingly had only one word to his vocabulary, which was 'No'.

'Do you have a food menu please?'

'No'.

Can I put a drink on my tab please?'

'No'.

'Can I pay by card for a drink and some crisps please?'

'No'.

'Do you know of any pubs in the area that do food please?'

'No'.

'Do you know where the nearest cash machine is please?'

'No'.
I walked out of the bar and crossed a narrow street to find a small block of run-down shops, one was open although all the windows were shuttered with steel. It was quite busy with a small queue of customers each clutching enormous bottles of cider. At the back of the shop was a cash machine and much to my surprise, it worked! I returned to the bar and ordered a pint of lager from Mr. Personality and sat down alone to work on my laptop. At 10.00pm he came over to me and, for the very first time, demonstrated he had more words in him by saying –

'Do you want another drink?'

'Not just yet, I'll have one later thanks.'

'I'm locking up now.'

'Why, it's only 10.00?'

'Bosses won't pay me if no drinks are being bought.'

OK, I'll go and try to find something to eat, are there any take-out places around?'

'No'.
I left, drove onto the road and soon found a Tesco Express, bought a sandwich, returned to the 'hotel' via my passkey to find it deserted. Went to my room, made a cuppa, turned on the 'TV' and ate my sandwich – after that I slept.
The Show.
I arrived on the showground on the Saturday morning at 8.30, the address said it was in school grounds, the access road seemed a little strange as it was via a narrow built-up area of houses but the venue was not at all strange – it was absolutely superb, perfection even. I made the mistake of turning onto the showground at the proper place and drove on to find a turning area. There I found the most beautiful and enormous building which was the school itself and paused a while to take it all in before driving back to the showground. It was all set in superb landscaped grounds, the weather was mild and the sun was out. I looked around to see all the tents in uniform appearance, there were dealers setting up stands and the centre ring was buzzing with what appeared to be calm but controlled activity – they all seemed to know what they were doing. I then thought to myself that it had to be the most perfect setting and location for a Koi show one could ever imagine.
It then hit me that I was the one who was guilty of starting all this up in the first place with the original forerunner of UK Koi shows. But it was a far cry from a few polythene-lined small ponds on a back lawn 34 years before! This appeared to be professional beyond the wildest imagination; it also gave out a good feeling to me – a proper Koi show.
I found the stand we had reserved and soon the truck turned up and all manner of items were transferred into the area and placed on display. The Saturday gave us a whole day to set up before it was opened to the public on Sunday and Bank Holiday Monday – we had no need to rush about like headless chickens. A lovely touch for the stand holders was the pre-planned wide access for our vehicles to the rear of the stands where excess stocks could be kept in the vehicles to be topped up as necessary if any display goods needed replenishing. Also behind every stand requiring water, there were reservoirs set up within a few feet from the stand where water changes could be made at any time as required without any need for hoses to be placed across the showground itself. Doubtless, these guys had it all sussed, presumably through many years of experience – again it smacked of pure professionalism.
For Waddy however, all of this was bettered significantly by the inclusion of a small tent where my absolute requirement of endless cups of tea and coffee could be found – and this was available for stand holders throughout the show from setting up to breaking down. On top of it all, it was free! I made many visits to this magical tent over the weekend; my first visit went something like this –
'Could I have a coffee please?'
'Yes, of course, tea, coffee, sugar, milk, biscuits – help yourself.'
That was it for me, a wonderful touch – absolute perfection, no need to queue endlessly in line when the show was open at refreshment stands for a drink, touches like this, despite how little it costs make one heck of a difference to a stand holder at a Koi show!
I knew only a few of the organisers, one being the ever-popular Bernie Woollands who was working away in the show ring (I recall the days when Tony West was in charge!). By 11.00am the ponds already had Koi entered and more vehicles were coming along bearing more entries, benching teams were helping to offload the cartons of goodies and the sun kept shining on us all.
By 4pm. our stand was set up and I won't relate my experiences that night because they were identical to the previous night's experiences – even the sandwich was the same, thankfully the bath had hot water!
On Sunday the show was open to the public for the first of the two days, here are a few shots taken early that morning.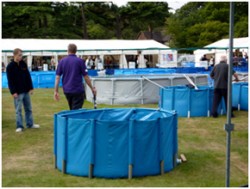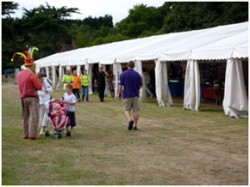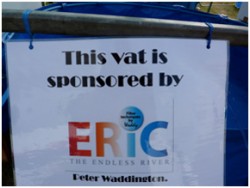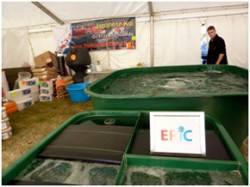 Even Jimmy was there, (back towards us – top picture), and working hard as usual.
In truth there was not much time to take pictures, for myself it was two days of pure pleasure meeting old friends who looked as old as me – some even looked older! It had to be said that the weather helped everything.
Before the show opened on Sunday, I made my usual journey to inspect the entries that were all displayed perfectly for visitors to inspect closely. As expected, there were some truly serious Koi entered that were worthy of any Koi show in the world and these can be seen on the South East Section's excellent website in detail. The presentation went as planned bang on time as did the lectures in the lecture theatre sponsored by Mike Cox of Koi Nations magazine who had travelled there all the way from the USA.
Both days were an experience for me, and the organisation and smooth running of the show was, in a word, impeccable.
Obviously there are many to be thanked for the event, not least the professional organisers, the tireless 'do-ers', the dedicated entrants, the caring benching teams, the precise water quality folks, the many Koi judges from afar and the loyal stand holders.
I drove the 200 miles home on Monday evening to face only light traffic and reflected on the event. I have no doubt that it was as near to perfection that any Koi show could be today – I had already forgotten the shed that was my 'hotel' until I started to write this report but it will be a long time – if ever – I return to St. Mary Cray!