JKX lectures – 21st/22nd May 2016.
There are many myths that surround the hobby of Koi keeping, this talk is to expose just one of them.
Nishikigoi first appeared purely by mistake and that's a fact.
They are not part of traditional Japan like Origami, Ikebana and Bonsai although many still believe this to be the case.
'Coloured Carp' were first produced near to Takezawa village in the area now known as Yamakoshi – not in China – also as many believe.
The original name for Yamakoshi was Nijimura – this translated as '20 Villages'.
The first book ever written about Nishikigoi and Nishikigoi history – was written by Masayuki Amano in the early 1960's. It was titled – 'Live Jewels – a survey of fancy carp'.
It was first published in 1965 – only 60 years ago – and was partially translated into the English language. It has been out of print for many years but occasionally second-hand copies do come up on Amazon. If you do find a copy then buy it, the information inside is priceless.
My first visits to buy Koi in Japan took place in 1977 & 1979 – I honestly expected that when I exited Narita airport, there would be ponds of Koi for sale right there – simply because I had been led to believe that they were widely available in Japan and could be seen and caught in the rivers and the lakes.
I was hopelessly wrong, this was not the case – I then tried to find Koi in Tokyo, the capital city, and once more drew a blank.
I even asked a few passers by in Tokyo for 'Koi' – only to discover later that the word Koi – also means 'Love' – no wonder people just walked away from me!
Luckily for me, an English-speaking member of staff at the hotel I was staying at pointed me in the direction of Nagaoka City, some 230 miles north west of Tokyo and the quickest way to get there at the time involved a 14-hour coach journey that twisted and turned upwards and downwards across several tall mountain ranges.
In the late 1970's – Nagaoka City and Ojiya City resembled those Wild West towns often portrayed in cowboy movies. Wooden houses, wooden awnings, wooden sidewalks etc.
Although Yamakoshi is only a few miles away from the hustle and bustle of Nagaoka & Ojiya – it may just as well be in another country.
Yamakoshi had wooden farmhouses, early homes built out of wattle and daub, small but well-tended gardens and well-tended plants and certainly no litter to be found. Tracks rather than roads were common back then.
All mountain streams exited into the Shinano River, as a result many carp and coloured carp escaped into the river.
I don't know this for sure, but perhaps I was the first fair-haired person ever to visit Yamakoshi – I certainly received many stares from the villagers?
I visited the area to find and buy Koi – a clueless Koi fanatic from the UK who could not speak or understand the Japanese language. The people I met also didn't understand English.
I was also very interested in the history of Koi and, with the fortunate help of some translators, was lucky enough to hold interviews with the Koi elders of the day.
All of these have since passed away many years ago.
These interviews proved to be extremely valuable to me and I wrote the information down in longhand every time I gleaned new information.
I was anxious to find out how Koi arrived into Yamakoshi plus why – rough dates would also be useful.
The first carp were imported to Japan from China in the 1850's – carp are not indigenous to Japan.
The reason for this was to breed the carp for food – they grew the offspring to around 3" – 4" and then preserved them in salt for storage.
The villagers throughout the harsh winters of Yamakoshi ate these small carp, in an area where six-meter deep snowfalls were common.
Cattle, sheep, pigs and other animals could not be farmed there and the long return journey to the coast for sea fish was almost impossible to make.
It was the wealthy landowners from Samurai classes who imported the first carp and presented them to the rice/vegetable farmers in the villages for breeding purposes.
These rice/vegetable farmers were the equivalent of the British serfs from feudal times and they were not even considered important enough to have surnames.
The summers in Yamakoshi reached water temperatures up to 25-30C – ideal for growing carp fry.
With information from the landowners – presumably originating from China, the villagers were taught how to breed the parent carp in order to produce carp fry.
Please bear this in mind; the only reason carp were introduced into Japan was for food purposes – this is important.
Although some carp fry were grown in the rice paddies, the majority were grown in the reservoirs above – that were used to irrigate the rice paddies.
Yamakoshi has its fair share of predators that eat carp fry – these consist of insects, bullfrogs, herons, shrikes, crows, cats and raccoons.
Protection had to be made to try and keep these predators under control.
In those early times it was almost impossible to keep parent stocks alive over the harsh Yamakoshi winters.
Some dedicated farmers excavated earth ponds in the mud floors of their houses and filled them with snow water.
Members of the family took turns by collecting water from the pond in cups and then letting it fall back into the pond to give some form of aeration.
Despite all this care, few female parents were alive the following spring, so – and this is also important – the landowners imported new parent carp.
At the time, the landowners and the farmers had no idea that there were different 'strains' of carp. Even if they had known, it would not have registered because all carp strains taste the same to those who ate them.
It is said that in the late 1800's some small carp, when harvested, displayed a few coloured scales.
Very little importance was placed on this discovery and most of these were still salted and stored with the others for food.
However, some farmers decided to keep a few with coloured scales as their pets and again tried to keep them through the winter in the earthen, clay ponds in their homes.
These small coloured carp were much easier to keep over the winter than the larger parent carp.
The first mention of coloured carp in the record books at the Yamakoshi village office was in 1843 when they were then known as Irogoi.
The second mention was in 1874 – some 31 years later.
As the years passed by – the enthusiasm grew and there were many rice farmers who started to keep these carp with coloured scales as a winter pastime – purely as a hobby.
'Before colour shots' here – The farmers kept records of their coloured carp by drawing and painting them.
Some rice farmers bought pets from other rice farmers for breeding purposes and were determined to produce the first true coloured carp and some did succeed but only after many failed attempts had taken place.
However, it was not until the 1920's that the villagers in Yamakoshi were finally supplied with electricity and running water.
Of course these two innovations made keeping live fish many times easier.
Some of the coloured carp produced were sold to local professional people such as doctors and wealthy businessmen; most were carried to their shallow garden ponds in damp moss or in wet canvas sacks – but many died on these journeys.
Those that actually made it alive were soon to die when winter came around once more.
By the late 1920's, the carp farmers of Yamakoshi were producing more carp than the villagers could possibly eat.
The landowners advertised their excess stocks of salted carp for sale to fishmongers in other parts of Japan and soon, these fishmongers made the long journey to Yamakoshi in order to buy them and transport them home.
On their visits, the fishmongers did see some of the carp with coloured scales that were kept as pets by the farmers and they took note – but there was no way they could possibly transport these live carp back to their businesses.
As mentioned earlier, I made my first visits to Yamakoshi in 1977 and 1979 when the area was still untouched by modernity and I often tried to imagine how the area would have been back in the 1920's.
Even in 1977, there were few roads, no freeways, no Shinkansen lines and access to most villages had to be made on stone and earth tracks.
Viewing and buying Koi generally involved making a short journey across muddy rice paddies.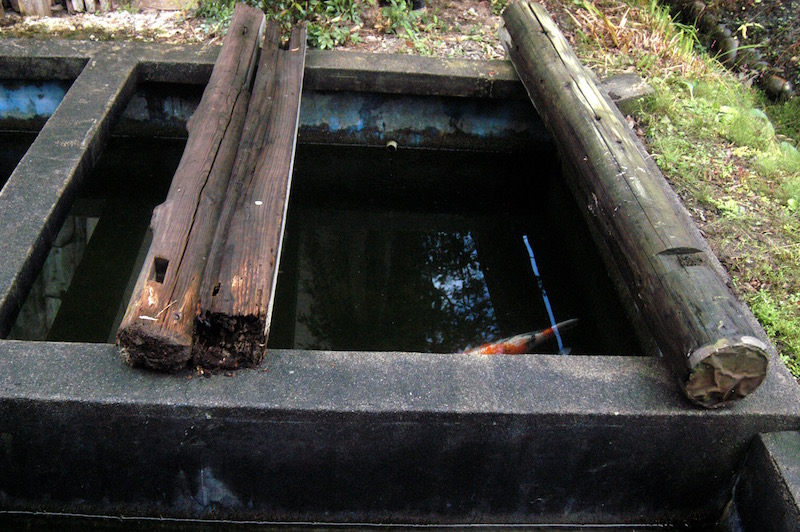 In the late 1920's Japan experienced a slump in trade and the development of coloured carp as a farmer's hobby fell into a decline.
A decade later – most of Japan's male populace were conscripted to fight in WW2 when most of the farmers in Yamakoshi took part.
This led to food for the remaining families becoming very difficult to find and it is said that many of the coloured carp still alive at the time, ended up as food for the table.
The world-renowned Izumiya Koi farm, in Iwamagi village, opened for business just after the war in 1947. Purposely in order to sell large Magoi as parent stocks to the carp farmers of Yamakoshi.
Izumiya soon became the main agent and broker for buying, displaying and selling coloured carp (then still known as Irogoi) from and to the carp farmers of Yamakoshi.
The major milestone came about in 1962 when the first vinyl bags were produced. By placing the coloured carp inside them and then inflating the bag with liquid oxygen could the carp be transported safely for many hours.
When the fishmongers in other parts of Japan realised this, they bought coloured carp from the farmers and opened pet fish businesses where they could sell them to the Japanese people who owned garden ponds. This was exactly when the carp farmers finally realised there was a healthy future sales market for coloured carp.
After WW2 the American military called the shots in Japan and commanded the landowners to give houses and surrounding land to the farmers for free. For the first time in history these farmers were allowed to have surnames and were all given a short list of surnames for the farmers to select from.
Amongst this short list of surnames were – Hiroi, Mano, Miya, Hirasawa, Kawakami, Igarashi and so on.
Still, as recently as the early 1960's, very few Japanese people had ever seen these fabled coloured carp from Yamakoshi.
More to the point, the coloured carp breeders had no idea that their pets would ever become of value to others in areas of Japan they would never even consider visiting.
Had it not been for the fishmongers who later became fervent promoters of these coloured carp – perhaps coloured carp would still be a winter pastime for the carp farmers themselves?
These early days were times when there was no printed information on how to keep these coloured carp alive and most buyers assumed they were merely large goldfish – but still the vast majority met an early death during the winters.
In those early days, buyers had no idea what they were buying – so instead they looked at the ones that resembled their favourite colours and found it 'cute' if another only had one pectoral fin.
As to prices of the Koi back then, all were sold on size alone – irrespective of colours.
In 1965 when Japan hosted the Olympic Games, Irogoi were displayed there for all to see with their new name of Nishikigoi (brocaded carp).
In the same year, Miyakoya in Ojiya opened the first auction house for carp – but it wasn't until early 1968 that the first coloured carp started to trickle through.
Because of the huge sales potentials of Nishikigoi, scientists were contacted and asked to discover exactly how the first coloured scales were actually produced.
These scientists discovered that it was a purely accidental crossing of 'strains' between two lines of Magoi named later as 'Asagi Magoi' and 'Tetsu Magoi' and this crossing did give coloured scales to some of the offspring.
The mystery was finally revealed but the mystique still remains.
This lecture is the truth as to how Nishikigoi came to be – and exactly why I often use the term – 'From Mistake to Mystique'.