I have written two of my differing views on this event, here's the first: –
Waddy's report on BKKS 'Koi 2009'.
I arrived with Hil and our two guard dogs on the showground on Friday morning around 9.30, the weather was perfect. As we drove across the showground to find our stand there were smiling faces of old beaming at us and I pretended to mow them out of the way with a wave of the hand. I have known most of these people for many years and who are they? I'll tell you – they are Koi Keepers/lovers/fanatics and they are proud members of The British Koi Keeper's Society – the first Koi Society outside of Japan when the rest of the Koi world was sleeping. It's fine for me to turn up when all the hard work has been done by them for some five days previous to this but I can also feel a little easier knowing that I've paid my dues in doing the same thing for many, many years and I know what's involved. These people are heroes who give up 7 days of their year for no monetary reward and they build-up and tear down the National Show – furthermore they do it with a smile. I saw a few new faces there but mostly they were old chums, I cannot name them all because I would miss some out but I've got to name one and this guy's a superstar.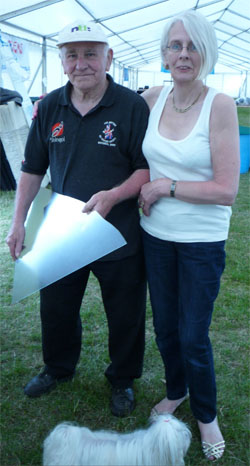 This is the legendary 'Jimmy' – he's forgotten more about staging Koi shows than anyone I know of. He told us how old he is but we couldn't believe it – he looks the same now as when I first had the pleasure of first meeting him some 20 years ago. I think it was 10 years back he told me he was going to retire but he's still here thankfully for us. In this picture Jimmy is holding a piece of broken glass which was part of a display board we had brought to the show. We carefully removed all the pieces but had no idea where to dispose of them. Jimmy was passing by and saw our problem, within minutes the broken shards disappeared and the problem was solved – thanks to the man! I could write a book about Jimmy, the wonderful human being – we love ya' Jimmy!
The centre ring was buzzing with activity and endless water testing; some early entries were already being processed by the benching teams. Behind the perimeters of the marquees the huge water reservoirs were being filled and monitored in readiness for the vital water changes required by the show ponds and the Koi dealers throughout the show. Apart from the setting up teams and the benching teams there were the water quality guys, the BKKS officials and don't forget the judges. All these people gave their valuable time for free and why? – Simple – they too are true 'Koi Keepers/lovers/fanatics'!
The picture here shows only part of the showground and was taken during the prize-giving on Sunday afternoon. It shows the centre ring on the right and some dealer's stands on the left. It should give a little idea of the mammoth task that these stalwarts had to set-up and break-down.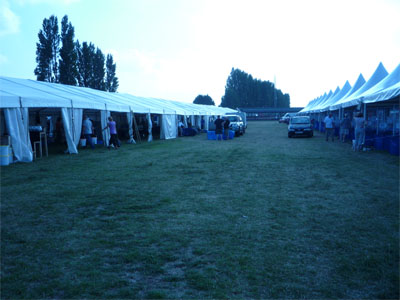 Hilary and I set up our display stand within an hour and drove into Newark for a coffee and a few items we needed thinking we were all ready to go. We returned at a leisurely pace only to find we had set up on someone else's stand! A minor problem and, within an hour or so, we were set up on our rightful area. By mid-afternoon many more Koi were being entered into the show and all the paperwork was being collated together with photographs before being passed to the computer teams for print-out and display on the respective ponds.
As a reminder, this event is only about one thing and that is Nishikigoi!
All the hard labour mentioned above is useless without some other superstars to complete the package and these are the entrants themselves. These are the guys who really love Koi and for two days a year will bring their prized pets to the show for us lesser mortals to view with our own two eyes because even the very best photographs are little more than useless. Only our own eyes can study a Koi right up close as it moves slowly and gracefully in front of us. As to the owners themselves, they know that packing and transporting their Koi in summer has to be carried out with the utmost care where not a single scale or fin must be damaged at all. In short, there are serious risks to bear in mind especially in warm water temperatures when females can spontaneously drop eggs just by moving them. Packing Koi to be entered into a show is also hard work for the owner and a lengthy process.
As to the entries at BKKS 'Koi 2009' there were about a dozen or so that were simply world class. Koi that an intense two week visit to Japan at the best time of the year will not produce even a single one – at any price. There will be some that can be found of the same size but nowhere near the frame and quality. These Koi are displayed to be viewed only two days a year. I have trekked ALL the Koi producing areas of Japan to find and buy special Koi for much, much longer than any other foreign individual I know of but the above-mentioned dozen or so Koi are truly special even by world standards. In truth, the twelve Koi should command a £5.00 'pay per view' and I would be the first in line with my £60.00 especially bearing in mind the pathetically low entry fee into the show.
Another reminder, this event is only about one thing and that is Nishikigoi!
I waited until late on the Friday night whilst there was still good light and proceeded to 'judge the show' for Supreme Champion. I had two Koi to choose from – one was how I thought the judges would vote and the other how I would vote. As usual both of my choices were wrong. I thought the judges would go for a Sanke owned by John Hellens (the smaller of the two) and my vote went 150% to Bill Oakley's champion for 2007 & 2008. True, she's a mature lady now but has a frame like a submarine – it was not the size (length) but more the frame. As with all of us as we mature there are a few wrinkles and blemishes and that's just part of growing but this lady has grown old gracefully. I think she knew she was the best whatever the result. I must have marvelled at her for 10 minutes just watching her glide by totally unconcerned.
The judges came up with another Koi of Bill's who is now the 2009 Supreme Champion and I heard it was not without serious prior deliberation. Over many years I have had serious matters to take up with the judges but they have all been Koi-related, it has even been known to be heated at times. But now I reflect on the extremely difficult decisions before them and, at the end of the day, their choice is final – exactly as it should be. Then I think of the time they are giving for free to help us have Koi beauty contests. I have often wondered how the judges at Crufts can choose between a Jack Russell and a Bloodhound to come up with the overall champion. We also have to wonder how Koi judges must react when selecting one Koi from Kohaku, Sanke & Showa varieties only – it's not easy! No doubt there were some wonderful Koi there which caused serious thoughts before reaching their final Koi – thanks to all our judges for being there to make the decision.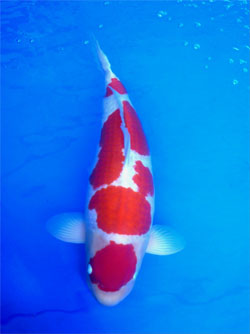 On my judging rounds there was one smaller Koi that blew me away and I kept returning again and again to see her and photograph her as best I could. If we are only concerned with the aspect of 'quality' then this lady had it all and was, by far, the best in the show on this one aspect. Although I did not know for sure, I guessed she was owned by Rad Hassan a very serious Koi fanatic and on several occasions I've shared his company in Japan. I checked the next morning and found it to be true, I believe it was also the first time Rad has entered Koi to a show. Later that day Rad came over to our stand and I called him over (he's a very quiet guy) – I showed him the picture of the Koi and asked him – 'How could anyone be so stupid as to buy such a low grade Koi?' Rad smiled and answered a few questions, he had bought the Koi from Matsui in autumn 2007 at nisai (51cms). He kept her there until autumn 2008 (sansai) at 67cms. She was entered into the All-Japan show this January at 68cms where she was awarded '2nd. Best Kohaku in Size' – now that's an achievement! She was entered to 'Koi 2009' still only sansai (just) – at 70cms but only received a minor award, Rad just shrugged his shoulders and smiled.
I have often heard that 'pattern' is not important and always shake my head in disbelief. In my experience, when Japanese breeders are selecting tategoi/tateshita, perhaps the most important aspect is pattern first and then the other important requirements follow. This Koi has a truly wonderful combination of pattern; skin; pigmentation and body (although she may just require a little slimming down now). All-in-all, a Koi to die for – absolutely breathtaking. All Rad has to do now is get her to 95cms – not exactly an easy thing to do by any means!
Yet again, this event is only about one thing – Nishikigoi.
Throughout the weekend the true Koi enthusiasts attended and viewed these wonderful creatures. I often wonder how ANY self-professed Koi lover can afford not attend this event for one of the two days because these are some of the very best Koi in the UK and by paying the very low entry fee we are also supporting the British Koi Keeper's Society in these troubled times. True, the UK hobby may well be only 20% of what it was in the late 1980's but the future of this wonderful hobby lies in Koi shows and the continued support of all concerned.
For me, it was a truly wonderful weekend meeting old friends from all over the country as well as some new faces. The weather was superb and the Koi Dealers (the biggest Koi enthusiasts) all seemed to be reasonably happy with the outcome.
And then – there were the Koi!
Long live the British Koi Keeper's Society National Show!
And now for my second take………..