Now to a dream of mine: –
Guess what? – Waddy seriously thinks that RIGHT NOW in the worst recession I have ever come across is the perfect time to open a new Koi Outlet in the UK – I have even found the site. It's on a busy main road, it has ample flat off-road car parking and is less then one mile from the motorway exit. There is already a lovely, modern high metal sign outside of it, have this powder-coated in grey gunmetal with a silver mainstay. Then, in tiny letters at the top paint 'kichi' in silver – small case. The locals will think it's another hairdresser's shop or a Thai restaurant, that's fine, let them wonder, there will be no business from them but local people do gossip.
From the outside it will look very presentable, it only needs paint and a few alterations, the building is small-ish, it used to be a hire shop for tools. There are two well-kept buildings, one will be a lovely showroom, the walls will have small shelves to take individual items. These items will be of real use to serious Koi enthusiasts but they are mine, they cannot be found elsewhere. Every proper form of correct anti-parasite medication will be available plus other similar items if required, it will also be measured out correctly for a specific water volume – of course, it will not be on display in pretty bottles! There will be three superb Koi foods on sale, one can be found everywhere, another will be purchased from Maurice Cox and the other will be Probites – only available from me in the UK. Every form of my ERIC filter units will be on working display and there are a few believe me. All the items that go inside them will be available and can be made up in any custom format as required.
I will be there for a chat whilst designing ponds for guys all around the world, there will be a few tables and chairs plus a few specially selected Koi-related pictures and artefacts on the walls. A cup of tea or coffee will be available – maybe a couple of biscuits even.
The other building will have a pond – just one, it will be filtered by ERIC. No more than 35 individual Koi will be displayed in this pond in any given year, they will start at sansai and then go up in years. 90% of the UK Koi enthusiasts will not be able to afford these Koi, it does not mean they will be 'expensive' – it just means they will cost a large amount of money and there is a huge difference between these words. I will have selected each one of these Koi in Japan at the only time of the year they become available – namely autumn. Go to Japan in autumn and view the best of the harvests, the breeders also know that their best stocks can only be afforded by very few visitors but 'Please, please, please buy my cheaper ones' they beg! From 1985 to 1998 there were many serious Koi enthusiasts in the UK who had the desire and the funds to buy special Koi but most of these have been lost to expensive but inadequate systems that did not produce the desired results and so their once-beautiful Koi became not so beautiful.
Today, I reckon that there may be 100 left and these are made up of a few seasoned collectors but more of these are the newcomers hungry to learn. I only need 20 of these guys, we'll build proper ponds and we'll teach the better ways of keeping. As to the 35 Koi for sale on display, these will advertised on the website with sizes only, thankfully the world is a much smaller place today than it's ever been. There are overseas enthusiasts also looking for special Koi. Specialist Koi websites bring in more specialist Koi enthusiasts than any Koi magazine in the world can even dream of.
These are only outline ideas, there will be much more than that, it will be 'open' to the public seven days a week – even for the nosy neighbours who want to find out if it's a suntan parlour or a modern chippy.
It will also be open to the droves of 'Koi keepers' from anywhere who wish to 'compare prices' – alas, my items for sale will not be available elsewhere.
Then the questions will follow such as 'Do you do Trade Prices?' – guess the answers.
Discount? – Don't make me laugh!
Three Koi for £100.00 including a free Chag? – I'll collapse on the floor in laughter just before recommending eBay!
Alas, the dream is over temporarily as this building has been snapped up!
You see, I started this 'Koi Industry' in complete innocence and know it far better than most. In the heady years following my innocence some four or five 'entrepreneurs' jumped on it – probably after a few drinks when someone came up with the oft-used statement that I have overheard in bars for years –
'There are guys out there paying millions for them there Koi Carp and there's loads of Koi dealers out there who are supplying them' – (and there were at the time, they just got the word 'millions' wrong).
Then someone came out with 'Shall we become Koi dealer's then?' Then the wise one said – 'No way, Koi die – but dry goods don't, we dare not even think of selling Koi because it sounds far to complex and risky, let the Koi dealers handle all those stupid risks and we'll visit them all and supply them with all the stuff they need. We'll advertise our products and become the Koi Dealer's friend offering volume discounts and we'll make fortunes at the end of it' – and one or two of them did because they concentrated on the garden centre outlets.
It was fine for a few years until they realised that their customer base was diminishing at a rate of knots and that their remaining ones were running out of dough with which to keep themselves alive.
In 2009 the realisation has kicked in full force and these Koi Dealer's Friends are now left with warehouses full of nonsense that has no real value because the vast majority of it is useless. No one ever saw racks of this nonsense in my Koi outlet – that was all left to the aquatic outlets/garden centres, which are as near to proper Koi Dealers as corner shops are to car outlets – they are worlds apart. The trouble was, as the years progressed, they began to become similar as a result of the dreaded word that was 'diversification'.
Where the UK is concerned today, the outlets still offering cheap, volume Koi bred in Japan have been decimated to almost zero simply because similar quality specimens can be purchased at a fraction of the price from other countries – including the UK. The buyers of these are not 'Koi People' they are 'Price People' – a coloured fish is a coloured fish to these. Even in relatively recent times one could find two to six year old Koi for sale at Israeli farms. Today it is difficult to find any above one-year-old Koi at Israeli farms simply because of the higher demand for cheaper Koi in volume and so it is not profitable nor is it worth growing Koi to larger sizes when all their production can be sold in small sizes.
For some years now there is no difference at all in the way goldfish and junk Koi are sold and this is simply by size. Junk grade Koi are just another type of ornamental garden pond fish.
Make no mistake; this has hit the Japanese breeder's general grade market badly!
Let me point this out very clearly, NO COMPANY or INDIVIDUAL has EVER made ANY profit at all by building outlets with ponds that contain hundreds of Koi in all sizes and varieties and offering them for sale – despite what the hordes of 'Koi Keepers' out there profess daily. Just ask the guys who have attempted this or are still bravely attempting to do this.
Not even the large garden centres have EVER managed to do this. They use these ponds as a tempter to purchase dry goods on display and get the punter into their coffee shops where the REAL money is made. No reasonably intelligent person can ever look at these pond/fish ventures with profit in mind because it is pure financial suicide unless the demand for Koi is equal to the demand for food for the table – Tesco, Asda & the rest. Yes, the vigilant person who 'knows a thing or two' will snap up the first ten fish and the rest will remain there until they have to be removed from display before they die or are reduced to incredibly silly prices in desperation. Just how long this can go on is directly dependent on how many cups of coffee, sandwiches and fish keeping dry goods are sold because this is subsidising the huge losses made constantly on live junk fish sales! The area taken up, the cost of building, running and staffing these ponds is significant. Floor space needs to make a daily profit for all retailers, this is monitored and if it ain't coming up with the profits, it's ripped apart and replaced with a commodity that will – please watch this space.
All of this has nothing at all to do with being a proper Koi Dealer – it's a million miles away just as long as we remember the main thing and that is –
IF I HAVE A KOI – NO-ONE ELSE IN THE WORLD HAS THAT PARTICULAR KOI!
And that's what it's ALL about – KOI!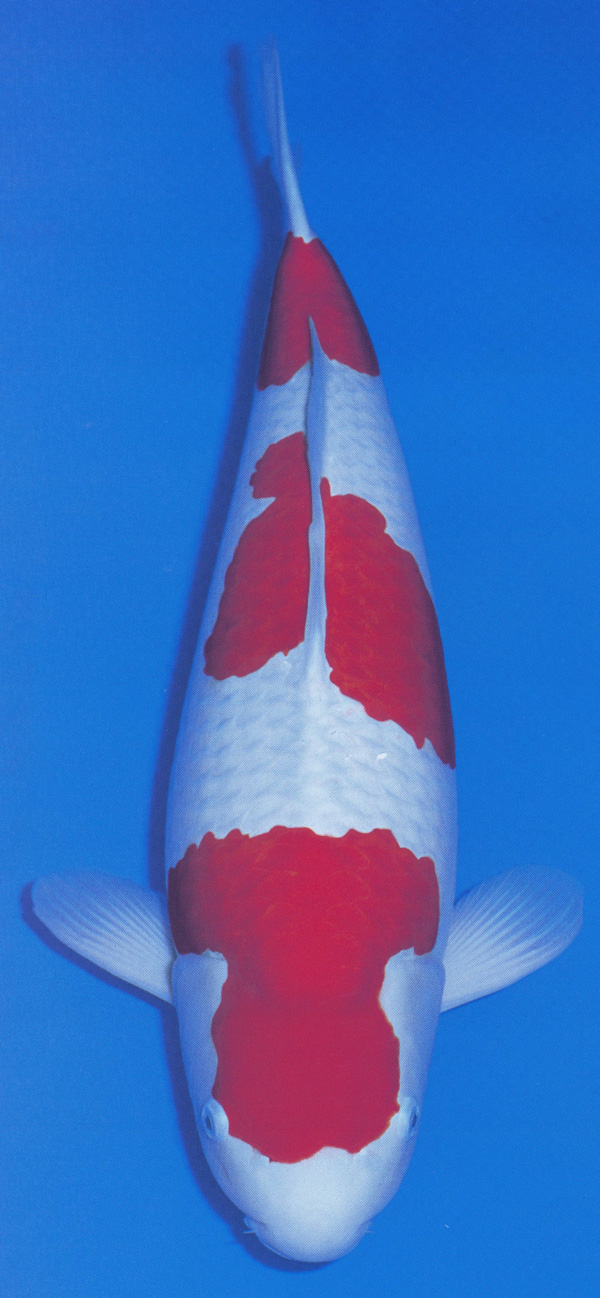 One thing is absolutely certain, if we are to continue in the quality aspect of the hobby in order to kick-start it out of the current doldrums, everything is dependent on the KOI SHOWS held all around the world.
Without these VITAL events and all involved in staging and operating of them, it will be extremely difficult for any of us – including newcomers – to observe any high quality Nishikigoi with our own eyes. Take away these events and in a very short period of time, Nishikigoi will revert to being priced and sold by one thing only and that is – SIZE!
Take it one stage further and someone will have the very best Koi in the world in his garden pond but no one will ever know – not even the 'someone' who owns it!