If it is of any help to those out there today, I opened Infitration Ltd. in May '82 and up until January 2005 I was fully aware that only 10% of the people visiting me could afford to buy my Koi. Those were the folks who always got my undivided attention because they were the ones that kept me in business over many years.
The rest were the 'Ooh-ers!' and the 'Ah-ers!' and the 'Aren't they Big-ers!' that were politely tolerated, some purchased the odd accessory, a bag of food or a bottle of medication. I assure you this was not nearly enough to pay the rent and sometimes, the time spent in necessary explanations resulted in loss of business from others who were standing by and waiting to spend.
Although some of these casual visitors did not know it at the time and stared in horror at the prices of the Koi on their first visits, quite a few became real Koi addicts in later years. The reasons they did become serious Koi addicts was simply because they had seen, for the very first time, just how beautifulul high quality Koi can be as opposed to the ones on display in garden centres!
Some even mentioned, on countless occasions, 'When will you be getting 'The Bread and Butter Stuff' in Mate?'
Thankfully I never stooped that low because I was Koi dealer in the truest sense of the word and in all those days I never placed a single 'paid for' advertisement in any Koi magazine – my Koi sold themselves, very easily and very quickly. Had I been foolish enough to advertise my Koi in a magazine, they would have been sold long before the magazine was even printed. Those were the times that some Koi enthusiasts actually resorted to fisticuffs for some specimens!
It was in 1987 whilst speaking with the ever-wise old bird Toshio Sakai that he mentioned to me he had NEVER in his life come across ANY individual who had made a financial success out of buying and selling cheap and often nasty Japanese Koi in quantity and, as usual, he was bang on the mark. Nor have I for that matter and nor will I ever see this take place, firstly because there has never been the demand for these enormous 'numbers' and secondly there are other countries selling even worse specimens far more cheaply. More often than not, over 95% of these are dead after six months or so!
This was re-enforced in autumn 2009 at a show where a dealer pointed out a pond of his containing some forty 9" Japanese Koi offered for sale at £55.00 each or two for £100.00. Towards the end of the show he had reduced those unsold to £37.50 each or two for £60.00. He mentioned that they had only cost him £10.00 each and was 'Well Pleased'. I asked him why he was 'well-pleased' and he replied by saying it was 'good profit' for him. When I mentioned after the show that, in my opinion, it would be impossible to get even his cost price back he looked surprised. He sold 14 Koi at the show and guess what? Those 14 Koi were the best 14 Koi in the pond. Each was packed in double vinyl bags with oxygen and a box was provided for each one for each happy customer. He now had 26 Koi to take back home which was around 100 miles distant. I asked him then his costs involved in attending the event which was stand space; advertising costs; travel costs; truck hire costs; hotel costs; food costs; staff costs and time spent away from business plus his day to day running costs back home after which he was silent. I then mentioned he had 20 or so Koi back home that would have blown everyone's heads away if they were on his stand instead of ones that could be readily found on many other stands to hear the reply – 'Yes, but no-one can afford to buy them at a show'.
My next question to him was – 'If you go back to Japan now and try to buy these same Koi for the retail price you are selling them for today, do you think it is possible?' My reply was a shake of the head!
I then asked why the majority of his stand was filled with items of dry goods that were also available on most of the other stands where price only was the consideration of the punters. The reply came back that these were items that were 'in demand' at the time.
I then suggested the following to him –
'You are a Koi dealer first and foremost, a good Koi show (and it was) should be a perfect opportunity for you to advertise YOU and YOUR business to the full. Your stand should reflect YOU, your special Koi and nothing else at all.
Use the show as a pure advertising and promotion venture for YOUR business and accept fully in advance that you will not take one penny in sales.
Take down a lovely pond containing your very best Koi and display them to all in perfect water and light conditions with no price pictures on display but DO make sure your name is in prominent position right next to your Koi. Make a nice surround to your stand with plants and a few chairs where folks can sit and decorate the walls with pictures of your outlet and some stunning ponds you have built. Even offer a drink to interested newcomers and existing customers and then sit back as crowds of visitors clamour to get to see the Koi you have on display. Costly? Maybe, but that immediately removes the necessity of having to pay for monthly advertisements in any Koi periodicals for a whole year because these are the real Koi enthusiasts gathered there who could become your future customers. Take my word for it all, if there are enthusiasts out there who are impressed with your display then these guys will have already jotted down your name in their memories because real Koi are indeed rare if not impossible to find today in the UK except for one or two dedicated outlets.
At the end of the show you will have spent your money very wisely and you will have saved a fortune in paying for monthly advertisements that few read and even fewer are interested in. In short, your have come away ahead financially and you have promoted your business superbly at a venue of real importance where some genuine Koi enthusiasts have gathered in numbers.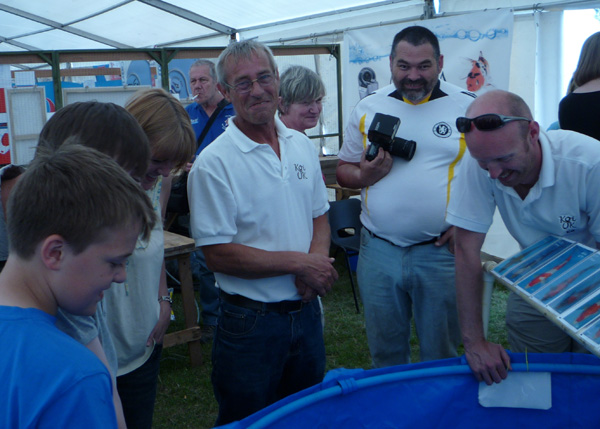 Maurice Cox, a 'proper' Koi Dealer.
On the other hand, a few other so-called 'Koi Dealers' are far more concerned in openly promoting the trademarks of manufacturers who have no idea at all about Koi – nor do they wish to know. In truth, they are the unpaid lackeys of the manufacturers trying desperately to get the edge on each other by one thing and that is PRICE because nothing else matters in that game. Of the punters clamouring to buy the products at the cheapest price possible, these are not 'valued customers' these are parasites – just watch them rush to the next stand if the same product is on sale at a penny cheaper. If the truth is known, these 'dealers' are working on sale-or-return' deals for the weekend from the manufacturers for the tiniest margins possible and will also come away with a huge loss at the end of it all and for what? – a free weekend advertisement for the manufacturer's logo and not one jot of promotion for their own outlets!
If any manufacturer wished to promote HIS products on MY stand with MY name, it would cost him three times my total costs involved to attend the show and he would have to stock it, set it all up and break it all down. Furthermore he would supply his own staff to take the money because I would have another stand advertising MY name and MY very best Koi for all to see and I would be there manning the stand and speaking with my own valued customers.
In truth, for MANY years, the Koi keeping hobby today is not even nearly large enough to support large wholesalers/manufacturers and these companies have only one price in mind – that is the price they term as 'trade price' and that is all they need. Margaret Thatcher disposed of 'retail price maintenance' many years ago and today there is no such thing – there is nothing 'illegal' in buying any new item today from any manufacturer for their asking price and then offering it for sale the next day on eBay for one penny.
As to what their 'trade customers' sell their products for, firstly the suppliers cannot legally control it and secondly are not really concerned in the slightest if the truth is known because their sales have already been made to their biggest market – namely the Koi Dealers themselves who now have to try and get as much as possible from sales of these products in order to stay alive. It is also the Koi dealer who has to put up with any problems that may arise resulting from the sale. Whilst the motorcar industry is large enough to be able to do this, the UK Koi industry today is most certainly not!
It's about time that the UK Koi Dealers realised that these manufacturers/distributors need the Koi Dealer FAR more than the genuine Koi dealer needs them!
Hence the reasons why larger distributors have offered 'Pre-Season Deals' for as long as I can recall whereby goods can be delivered in December but payment is not due until midsummer.
How about a three-month boycott on further purchases? Then watch those warehouses fill to bursting point as the overheads continue to pile up. After the two months has expired watch the incredible special 'one-off' offers that then come out of them!
Leave it for six months and they'll be begging you to drive their useless items away for free rather than have to pay for transportation to the local tip!
Is it best to have their goods on FREE display at the Koi outlets of the UK or is it better to have them stacked up in warehouses where no one can see them at all?
Some of these outfits also assure their dealers that they will pass on all telephone/email enquiries from retail customers directly to them from 'areas' around their outlets so that the dealer will get the benefit of the sale. This is hugely funny, if you're a dealer, get a local friend to telephone the manufacturer and ask him/her to enquire about an item of value and wish to pay for it. You will then be asked for credit/debit card number and the sale will be taken directly into their coffers. Once it has been realised that the local dealer will not get a penny out of the sale then cancel your payment there and then, saying you've changed your mind. Give it a try – I have!